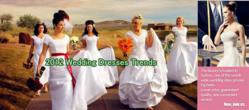 2012 wedding gown trend
beijing , China (PRWEB) March 23, 2012
Beijing, 23nd March, 2012
Finding the perfect wedding dress for all budgets just became easier with the launch of the new online bridal dress store from G-marry. The Chinese wedding dress manufacturing specialists offer an exciting range of wedding apparel and collections, thanks to their highly skilled workforce and advanced technology. All these affordable and trendy bridesmaid gowns, wedding dresses, flower girl dresses, and much more are now available online from the online store of G-marry. This online store has been designed to suit all the requirements of internet savvy women of the present generation who want discounted designer wedding gowns for the biggest day of their lives.
The recent economic turmoil has made its presence felt in the wedding plans. In this scenario, G-marrybridal.com has emerged as a wonderful online resource that can accommodate the different diverse requirements that a modern day bride has and provide easy access to the most popular and stylish, designer wedding dresses for an unbelievable price range. All bridal gowns in this online store are available for prices that are fifty to ninety percent less than the retail prices. It is even possible to find out some of the most chic wedding gowns for less than $100, thanks to G-marrybridal.com.
Apart from wedding dresses, the store also offers an enviable stock of mother dresses, prom outfits, wedding shoes, gloves, veils, and many more. Immediately after the official launch of the online store, a senior spokesperson form G-marry said, "We are excited about the launch of this online store. This will certainly help us reach out more effectively to a global audience. We have a series of plans to provide more benefits to our customers in the coming days".
About the Company : G-Marry is a Chinese wedding dress manufacturing specialists offering a wide range of wedding dresses and accessories within an affordable price range. The company has recently launched their online store to cater their global pool of customers.