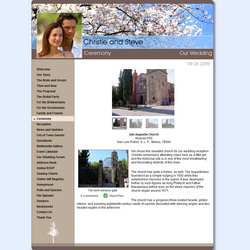 It's a showcase and a meeting place
San Jose, CA (PRWEB) April 1, 2009
WedShare.com announces new online photo management and editing capabilities, saying that engaged couples -- more budget-minded than ever in today's economy--now have even more to gain when taking advantage of a personal wedding website.
WedShare.com co-founder and CEO Crystal Melendez says that over 80 percent of today's engaged couples rely on the Internet during their wedding planning, and that personal wedding websites are a rising trend. According to Melendez, they are an inexpensive and easy-to-use alternative to costly, time-consuming planning items like stationery, bulky invitation enclosures and RSVP management. She also attributes a large part of the websites' popularity to shared imagery and the social networking aspect.
"It's a showcase and a meeting place," Melendez says. "A couple can create their own website without any technical know-how. They use it to correspond with their guests and bridal party, with their families and friends. It's a way to communicate and share the planning experience with everyone. Imagery and photographs are a major part of that."
WedShare.com's new suite of photo features allow members to move hundreds of photos online from their computers, cameras, or phones in a few mouse clicks, and there's no limit to the number. Photos can be styled, cropped, grouped into albums, and converted into professional slideshows complete with commentary. There's also the ability of family and friends to add their thoughts into the mix by posting their own comments.
"These new photo features have been essentially designed by our members," Melendez says. "We get so much great ongoing feedback from engaged couples telling us exactly what they're looking for. It helps to ensure that we have a truly solid product in the end that people will love to use."
For more information and to learn more about personal wedding websites, visit http://www.WedShare.com .
About WedShare.com:
WedShare.com was founded in 2004 by Crystal and Jason Melendez, online wedding planning experts, married couple, and authors of e-Plan Your Wedding: How to Save Time and Money with Today's Best Online Resources. Since its founding, WedShare.com has become a leading planning resource and top personal wedding website provider. The company is based in California's Silicon Valley and has an international client base that stretches across the globe. Its goal is to enable anyone to create their own unique personal wedding website, and to use the latest technology to streamline the many planning details with ease and confidence.
###