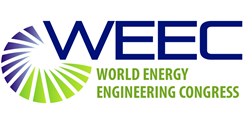 (PRWEB) September 23, 2015
The 2015 World Energy Engineering Congress (WEEC), to be held September 30th through October 2nd, 2015 in Orlando, Florida is an international energy conference and trade event for commercial, industrial and government end users and energy professionals, hosted by the Association of Energy Engineers.
More than 200 exhibitors will be on display during the trade show portion of the event. Here are ten must see exhibits at the 2015 WEEC show.
1. Power Metered Panelboard (PMP) by Benjamin Electric Company
2. Building Automation by BACnet International
3. Industrial LED Fixtures by Resilient Lighting
4. Efficient Mobile Audit Technology (EMAT)
5. RoCoil TCA-5 by Dent Instruments
6. DTS Series - High Quality Electrical Metering by Measurlogic
7. Centrifugal Oil Free Air Cooled and Water Chillers by Smardt Inc
8. Nexus® 1500+ Power Quality Meter by Electro Industries/GaugeTech
9. Electricity Sub Metering Solutions by Northern Design Metering Solutions
10. EnergyCAP
Read the list here: 10 Must See Products At WEEC 2015