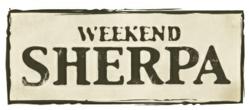 Weekend Sherpa is your email to adventure.
San Francisco, CA (PRWEB) April 07, 2011
Weekend Sherpa, the multiple-award-winning weekly outdoor lifestyle e-mail newsletter and website providing readers with insider recommendations for the San Francisco Bay Area and Northern California, today launched its second market in Los Angeles/Southern California. Casual outdoor enthusiasts now have access to Southern California's best pursuits and little-known destinations via a weekly e-mail newsletter and complementary website.
Each edition provides something different and surprising, from hiking unspoiled territory and biking incredible terrain to sampling great wines in hideaway havens and enjoying economical overnight escapes. Every Thursday morning, subscribers receive an e-mail with excellent ideas and information for getting outdoors (including topics such as hiking, biking, camping, overnight escapes and water activities) just in time for the weekend. Each e-mail newsletter provides detailed directions for the profiled topics, with embedded web links for more information. Weekend Sherpa's team of researchers and writers actively participate in everything they write about to ensure accuracy, authenticity and to vet the experience prior to recommending it to readers.
Weekend Sherpa's expanded website—redesigned to include the Southern California market—serves as an ideas and information resource that archives the short, entertaining e-mail newsletters it distributes to subscribers every Thursday. Requests from Southern Californians for their own Weekend Sherpa edition became increasingly frequent. "It seemed like a natural next step," says Brad Day, founder and publisher of Weekend Sherpa. "In planning to launch in a second market, I wanted to keep the focus on California specifically, creating content that supports a great outdoor lifestyle publication for our readers."
Thirty-two-year-old Day was born and raised in California's Central Valley and has been adventuring throughout the state his whole life. "I'm very excited about launching Weekend Sherpa in Southern California because it's one of the most beautiful places for explorations and offers endless accessible outdoor adventures. Busy people look to Weekend Sherpa to give them interesting ideas for adventures, relaxations and destinations to make the most of their weekends."
Weekend Sherpa is headquartered in San Francisco and launched its Northern California edition in September 2006. Since then it has grown to become the new voice of authority on the Northern California outdoor lifestyle and has received many accolades and awards, including a Webby Award Nominee and two "Best of the Bay" awards from local print publications. Brad Day is a frequent guest on local radio and television programs.
The weekendsherpa.com homepage design showcases an appropriately weathered travel journal. The navigation system is filled with photographs and allows visitors and subscribers to click on past content to learn more about topics, activities and destinations of interest. Users can search the site according to activity themes (hike, bike, relax, water, overnights, winter, dog-friendly) and destinations (Los Angeles, San Fernando Valley, Orange County, Deserts, Inland Empire, Northern San Diego County, Ventura County and points beyond).
The newly expanded website will inhabit advertising via banners, sponsored links and a dedicated advertorial section within its weekly emails.
To get outdoors and learn more about Weekend Sherpa, subscribe to the free e-mail newsletter by visiting Weekend Sherpa's website.
# # #