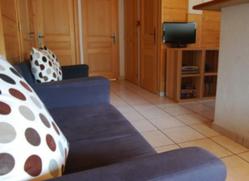 Finding accommodation for just a weekend can be a real nightmare
London, UK (PRWEB) January 25, 2012
If you've ever passed through Geneva airport in Switzerland on a Thursday evening, you cannot fail to have noticed the vast numbers of generally single-sex groups, clad in their bright attire... and on their way to an intensive, take-no-prisoners, 3 days of skiing.
Where weekend skiing was once the purview of the rich and famous, or for those lucky enough to be treated to the Corporate jolly, it's now hit the mainstream, with ever-increasing numbers of skiers leaving behind the drab weather at home for their fix of crisp mountain air.
On the one hand it's incredibly easy, with frequent flights from the low-cost airlines, and cheap, flexible ski transfers to most French resorts. The flip-side however is that finding accommodation for just a weekend can be extremely difficult, since most major accommodation providers still work on Saturday changeovers, making them rather reluctant to accept weekend bookings which effectively block-off the full weeks either side.
Happily, a number of enlightened souls have spotted the gap in the market, and adapted their booking arrangements to better accommodate weekend bookings. A selection of these can be found on Internet-Cottages' new Weekend Skiing section, which has both self-catering and catered properties available for weekend breaks.
As a seasoned weekend skier himself, Ian Locke of Internet-Cottages obviously has a vested interest in seeing the Weekend Ski section grow: "I've been doing weekend trips for about 5 years now, and perhaps not surprisingly given my line of work, it generally falls to me to sort out the accommodation - and it never fails to be a nightmare! I really don't understand why everything in The Alps has to revolve around Saturdays - it guarantees you're going to get traffic jams, the flights are going to be more expensive, and it also really doesn't work well for the weekend market. Needless to say, I'm going to make it my mission to get as much weekend accommodation as we can onto the Internet-Cottages site!!".
About Internet-Cottages
Internet-Cottages is a directory of privately-owned self catering apartments and chalets in the French Alps, together with catered chalet holidays from small independent operators. These cover the major resorts like Meribel, Courchevel, Morzine, Chamonix, La Plagne etc, as well as smaller / less well known resorts such as Serre Chevalier, Sainte Foy, Morillon etc.
For more details about Internet-Cottages or this press release, please contact:-
Ian Locke
+44 (0)7977 042489
###