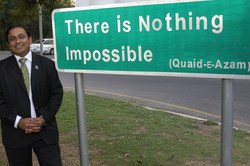 Don't let the future generations say, "they did not care about us!" Amir Jahangir
(PRWEB) March 6, 2010
This year, Amir Jahangir, Chief Executive Officer of SAMAA TV, Pakistan's leading private news channels has been honored as one of the Young Global Leaders for 2010. Jahangir has been acknowledged for his profound leadership quality in promoting innovative media communication models addressing socio-economic issues and contributing to improving the lives of marginalized communities in Pakistan, thus improving the state of the world. He is also one of the key media leaders, who have been working towards establishing a new media-age in Pakistan. This new media trend is based on responsible reporting, driven by innovation journalism techniques aimed at delivering solutions for sustaining socio-economic growth and improving Pakistan's competitiveness.
Being one of the most inspiring media leaders in Pakistan, Jahangir has carried out many landmark initiatives to build Pakistan as a progressive nation. Some of the most applauded initiatives include health, education, curbing extremism and terrorism, and environment. Under the health, banner the Polio Control Cell, a joint initiative of SAMAA with UNICEF Pakistan, World Health Organization and the Ministry of Health, Government of Pakistan, the Polio Control Cell was launched in October 2008 as an innovative health communication model aimed at eradicating Polio in Pakistan. The model has now been adopted as the National Polio Control Cell by all leading public and private broadcasters and other private organizations and are actively engaged in providing 35 million children under the age of five the opportunity to a polio free future. The model has also been applauded by the Melinda and Bill Gates Foundation as a role model to be replicated in other epidemic countries. Amir Jahangir has also carried out specific programs aimed at empowering the youth against extremism and terrorism and promote a better and secure future for the future generations.
"The World Economic Forum is a true multi-stakeholder community of global decision-makers in which the Young Global Leaders represent the voice for the future and the hopes of the next generation. The diversity of the YGL community and its commitment to shaping a better future through action-oriented initiatives of public interest is even more important at a time when the world is in need of new energy to solve intractable challenges," said Klaus Schwab, Founder and Executive Chairman of the World Economic Forum.
Speaking on the occasion, Mr. Jahangir said, "In today's world, where our daily lives are faced by immense challenges, both economically and socially, the need for leadership has become even more pivotal. In a globalized world our country need leadership at all levels and sectors. We need people of all ages from all backgrounds to take advantage of the myriad of opportunities that exist to make a difference."
Jahangir further added, "We all possess the capacity for leadership, but only those who cultivate for the betterment of others will ever become truly effective leaders. Our country has a vast of young talent and we need to create opportunities for them to come forward and inspire others in striving towards excellence and making a difference for a world where we can all coexist in peace and harmony."
Drawn from a pool of almost 5,000 candidates, the Young Global Leaders 2010 were chosen by a selection committee, chaired by H.M. Queen Rania Al Abdullah of the Hashemite Kingdom of Jordan and comprised of eminent international media leaders.
The selection committee composed of the world's top professionals and chaired by Her Majesty Queen Rania Al Abdullah of the Hashemite Kingdom of Jordan. This honor is bestowed by the World Economic Forum each year to recognize the most distinguished young leaders nominated below the age of 40 from around the world.
The selections were carried out after carefully screening the profiles of thousands young leaders from every region of the world and from a myriad of disciplines and sectors. Amir Jahangir's selection was made in recognition of his record of professional accomplishments, his commitment to society and potential to contribute to shaping the future of the world through his inspiring leadership.
Amir Jahangir will be joining The Forum of Young Global Leaders as an active community member. The YGL community forms a unique global network of peers from diverse backgrounds and fields, with a highly visible opportunity to significantly impact world affairs and shape the global agenda. The 2010 honorees will become part of the broader Forum of Young Global Leaders community that currently comprises 660 outstanding individuals. The YGLs convene at an annual summit - this year it will be in Dar es Salaam, Tanzania, 2-7 May 2010, the first time in Africa and the largest ever gathering of YGLs - as well as at Forum events and meetings throughout the year.
The Forum of Young Global Leaders was established in 2004 by Professor Klaus Schwab, the founder and Executive Chairperson of the World Economic Forum. The Forum of Young Global Leaders is a unique, multi-stakeholder community of the world's most extraordinary young leaders who dedicate a part of their time to jointly address global challenges and who are committed to devote part of their knowledge and energy to collectively work towards a better future. Together the Young Global Leaders work to discover innovative solutions to today's most pressing problems through various initiatives and work streams as well as catalyzing the next generation of leaders.
Every year the Young Global Leaders participate in Annual Summits where approximately 200 YGLs from around the globe meet to learn with each other and from each other within a global network of peers. The Forum of YGL organizes regular events throughout the year including the YGL Summits, which provide an opportunity for fellow YGLs to meet, share ideas and discuss ways to collectively shape the future. The Kennedy School Leadership and Public Policy for the 21st Century Module provides a convening opportunity for the YGLs to gain critical skills and knowledge in key issue areas as well as leadership skills. This year the 2010 YGL Annual Summit will take place in Dar es Salaam, Tanzania 2-7 May.
The World Economic Forum was founded in 1971 in Geneva, Switzerland as an independent international organization committed to improving the state of the world by engaging leaders in partnerships to shape global, regional and industry agendas.
###