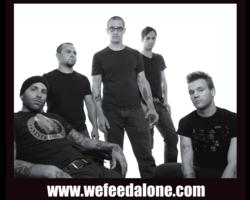 "Bands as good as 'We Feed Alone' don't walk into your studio every day." - Steven Gillis, owner of the Chicago-based studio, Transient Sound
Chicago, IL (PRWEB) September 28, 2012
Chicago-based rock band, We Feed Alone,
releases their debut, self-titled album September 25, 2012. The band was formed in 2009 by drummer Eric Straton and guitarist Doug Wagner. Previously, Straton performed with Zim Zums, former Marilyn Manson guitarist, Chicago-based band The Pop Culture Suicides. Straton, Wagner, and We Feed Alone's bassist, Scout Hughes, have opened for various national acts while performing in their previous band Gunrunner. Jeff Schwier, We Feed Alone's rhythm guitar player, shared a stage with artists such as My Chemical Romance and Plain White T's in his prior band, Tub Ring.
We Feed Alone hits hard with a very full and intense sound from start to finish. With their electric quality and Wagner's rough rock vocals, the sound can be compared to that of Nine Inch Nails. Wagner comments on his lyrical content as "a reflection of my feelings and emotions relating to life and love. I write songs about relationships, about my friends fighting wars, about injustices on Chicago streets and about the way I perceive the world changing around me." Tracks such as "I'm dangerous" and "Desire" showcase Wagner's lyrical honesty and range of emotion.
We Feed Alone is comprised of Doug Wagner on vocals and guitar, Eric Straton on drums, Scout Hughes on bass, Erling Johnson on lead guitar, and Jeff Schwier (endorsed by Michael Kelly guitars) on rhythm guitar. We Feed Alone was mastered by two time Grammy Winner, Vlado Meller (Paul McCartney, Pink Floyd, Michael Jackson, Public Enemy, Jack White, Metallica, Oasis, Johnny Cash) Steven Gillis engineered, produced, and mixed the album. Gillis is known for his contributions in the band Filter for the albums Title of Record' and The Amalgamut. Gillis is an owner of the Chicago-based studio, Transient Sound. Gillis comments, "each stage, from pre-production to getting the right sounds and great performances couldn't be rushed or sacrificed without jeopardizing the end product. We were picky with every detail to get the album sounding as good as we could. Bands as good as We Feed Alone don't walk into your studio every day."
You can learn more about We Feed Alone at http://www.wefeedalone.com
If you have any comments or would like to set up an interview, please contact Melissa Zeigler: melissa(at)powderfingerpromo(dot)com.