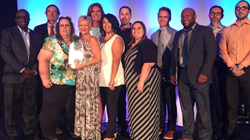 Robin Smith addressed the audience accepting the award, "Thank you, it is definitely humbling to be up here in the presence of so many wonderful entrepreneurs."
Oklahoma City, OK (PRWEB) August 13, 2015
WeGoLook was named Innovator of the Year by The Journal Record, an award recognizing Oklahoma companies for ingenuity, innovation, technology, and growth. The event was hosted at the Skirvin Hotel in downtown Oklahoma City and COO & Co-Founder, Robin Smith along with several WeGoLook Team Members attended an awards luncheon on Wednesday, August 12, 2015.
WeGoLook was nominated for the award by i2E, Inc. and was selected as the winner by a board through the Journal Record. The company was specifically recognized for over 300% growth in the first half of 2015 and adding over 30 employees to the company, along with their proprietary mobile platform and first-to-market solutions for nationwide inspections.
Robin Smith addressed the audience accepting the award, "Thank you, it is definitely humbling to be up here in the presence of so many wonderful entrepreneurs." She went on to state that this would not have been possible without the community and her team.
WeGoLook was among other Oklahoma City innovative businesses, such as:
Appable
Caisson Biotech, LLC
Camp Pixel
Century Martial Arts
Digital Six Laboratories
Exaptive, Inc.
Financial Samaritan
Francis Tuttle Technology Center
JustGoodNews.Biz
Oklahoma Public School Resource Center
PatientLink
Roll-2-Roll
Simpliuniik
Thrive15.com
Tobacco Settlement Endowment Trust
The Transformation Agency
Vakargo
Valve Systems International
Well Checked Systems International, LLC
W-W Manufacturing Co., Inc.
About WeGoLook:
WeGoLook is a dynamic field services and inspection company leveraging a sharing economy of 15,000+ Agents in the United States. Tasks and inspections are assigned to Agents through a crowdsourced platform. Agents collect field data, photos, and video via the WeGoLook Mobile App and complete custom tasking such as item pickup and delivery and more. WeGoLook specializes in verifying autos, properties, boats, heavy equipment, antiques, electronics, furniture, RV's and other assets. WeGoLook has expanded to international markets in the United Kingdom, Canada, and Australia with other countries to follow.