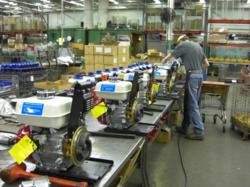 Royersford, PA (PRWEB) April 30, 2012
To better serve its customers, WeGotPumps.com now offers custom manufactured pumps for all types of commercial and industrial applications.
"More and more customers are in need of pumps that are designed specifically for their application, pumps that you just can't buy off the shelf" says Chris Anderson, president of WeGotPumps.com. "We are proud to be able to serve our customers with a level of expert and personal service that sets us apart from the competition."
WeGotPumps.com recently designed a custom series of pumps for one of its customers, NSK Corporation in Franklin, Indiana.
Anderson says the folks at NSK were experiencing a problem with a coolant system. "It wouldn't work because of an issue with grinding swarth [steel wool], so we worked with our friends at Gusher Pumps to create a vortex pump that eliminated the requirement for seals and still got the job done." The NSK personnel are so pleased with the performance of their custom pump they have already ordered more units.
In addition to developing custom manufactured pumps, Anderson notes that WeGotPumps.com has $8 million worth of inventory in stock that is ready to be shipped. All pumps are 100% manufactured in the USA.
WeGotPumps.com inventory of pumps and equipment includes products from leading manufacturers such as: AMT Pumps, Gusher Pumps, All-Flo Pumps, Goulds Pumps, Fulflo valves, IPT Pumps and BSM Pump Corporation. WeGotPumps.com sells all types of commercial and industrial pumps including engine driven pumps, coolant pumps, trash pumps, centrifugal pumps and more.
For more information on WeGotPumps.com contact:
888-817-8677
info(at)wegotpumps(dot)com
wegotpumps.com
For more than 25 years engineers at WeGotPumps.com have worked with the leading distributors of pumps in the United States to deliver customized solutions to companies large and small.