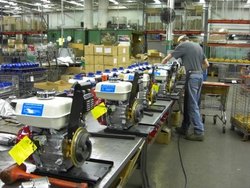 WeGotPumps.com expanding lineup of commercial and industrial pumps represents the best manufacturers in the industry - all made entirely in the USA.
West Chester, PA (PRWEB) April 1, 2010
To better serve their customers, We Got Pumps.com recently expanded its online inventory of pumps and equipment to include products from leading manufacturers such as: AMT Pumps, Gusher Pumps, All-Flo Pumps, Fulflo valves, IPT Pumps, BSM Pump Corporation and Weg Motors.
"Our expanding lineup represents the best manufacturers in the industry," says Dan Clark, marketing director for We Got Pumps.com. "We are proud to offer our customers a selection of products made entirely in the USA."
Clark notes that We Got Pumps.com has $8 million worth of inventory in stock that is ready to be shipped.
We Got Pumps.com is highly regarded in the industrial and commercial pump industry because it consistently provides customers with high-quality products, excellent service, low prices and free shipping in the continental United States.
"All of our online orders are processed through our secure server so our customers can shop online with confidence," says Clark. "Our goal is to serve all of our customers' needs with uncompromising value and service."
For more information on We Got Pumps.com contact:
Dan Clark
Marketing Director
888-817-8677 Ext. 502
For more than 25 years We Got Pumps.com engineers have worked with the largest distributors of pumps in the United States.
We Got Pumps.com online selection includes commercial and industrial engine driven pumps, high pressure pumps, pedestal pumps, diaphragm pumps, self-priming pumps, sprinkler / booster pumps, sewage pumps, trash pumps, straight centrifugal pumps, sump / submersible pumps, coolant pumps, rotary / piston drum pumps, pump valves and an assortment of accessories.
###