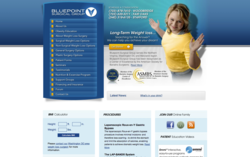 It is important for the family to know what to expect after the surgery so they can help foster an environment of success.
Fairfax, VA (PRWEB) January 05, 2012
The team of Northern Virginia weight loss surgeons at Blue Point Surgical Group is now utilizing educational videos from EMMI Solutions to further enhance patient information during their bariatric surgery process. EMMI Solutions creates patient engagement programs that break down complicated medical information into an enhanced and easy to understand patient experience. Blue Point Surgical Group says the video seminars will help bridge the gap between surgeons and patients by translating procedure details into an easily comprehensible, user-friendly explanation.
By delivering evidence-based medical education to patients, Bluepoint Surgical Group says the videos can offer patients a more active role in their healthcare. The practice also adds that the online seminars will be mandatory for patients considering surgery at their practice, whether they're seeking a procedure such as gastric banding or LAP-BAND® System surgery. By educating patients through a required set of videos, Bluepoint Surgical Group hopes to provide dense information in an easy and convenient way.
In conjunction with the release of the EMMI education videos, Blue Point Surgical Group has also announced that the videos will be available on mobile devices such as smartphones and iPads via their new mobile website. According to the practice, the mobile site will launch on December 31, 2011.
The weight loss surgery practice says that having the option to view them online or on-the-go through their mobile website can put patients at ease whom normally would be nervous and anxious in a doctor's office. Bluepoint Surgical Group says this added comfort can ensure patients pay full attention to the information being provided about their procedures so they can make better decisions regarding treatment.
For patients considering weight loss surgery, Bluepoint Surgical Group says the seminars offer a distinct advantage because they can be attended online from the comfort and convenience of one's home rather than in person. Bluepoint's Medical Director, Dr. Denis Halmi, values the importance of educating the potential patient and loved ones: "By viewing EMMI online, patients and their families can get an introduction to the surgery. Then, when the patient sees me or one of our other surgeons for a consultation in the office, they will be more comfortable asking questions. Also, it is important for the family to know what to expect after the surgery so they can help foster an environment of success."
About Bluepoint Surgical Group
Bluepoint Surgical Group is a team of surgeons specializing in bariatric surgery in Northern Virginia. The practice has been designated by the American Society for Metabolic and Bariatric Surgery as a Center for Excellence in Bariatric Surgery. Doctors in the group have attained such distinctions as board-certification in General Surgery, certification as a Fellow of the American College of Surgeons, and membership in numerous professional organizations specializing in bariatric, general, and endoscopic surgery.
The Bluepoint Surgical Group has three locations for the convenience of patients: 3620 Joseph Siewick Dr. Suite 200 in Fairfax, VA, reachable at (703) 620-3211; 2280 Opitz Blvd. Suite 320 in Woodbridge, VA, reachable at (703) 878-7610; and 125 Hospital Center Blvd. Suite 207 in Stafford, VA, reachable at (540) 318-6135. The group can also be contacted online via the website bluepointgroup.com or facebook.com/bluepointgroup.
###