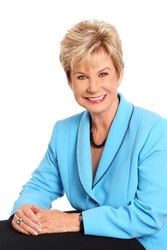 Years ago, at Hartford's WTIC, Gayle King and I had a weight loss competition, complete with on-air weigh-ins. I can't wait to tell her about my success.
Sarasota, FL (PRWEB) October 21, 2009
"I finally succeeded in losing weight by using The Anderson Method," said Linda Carson, WWSB's weekend anchor. Using this weight loss plan, Carson stunned viewers by losing 70 lbs. before their eyes five years ago at ABC 7 in Sarasota, Florida. She has maintained her success ever since. The weight loss plan is explained in the new book "The Anderson Method" by William Anderson, LMHC (Two Harbors Press, $14.95), available at http://www.williamandersonlmhc.com .
Carson first made headlines as the first female news anchor in Atlanta, Georgia, and shared Super Bowl victories with her late husband Bud Carson, the famed NFL head coach of the Cleveland Browns and defensive coach of the Pittsburg Steelers. However, it is her success with weight loss, after years of failed attempts, that is her most prized victory.
"I had tried every diet and weight loss plan in existence, never getting very far, and always got worse until I was referred to The Anderson Method by my doctor, Mark Lupo" Carson said. "Years ago, at Hartford's WTIC, Gayle King and I had a weight loss competition, complete with on-air weigh-ins. I can't wait to tell her about my success." Gayle King is now editor-at-large at O, the Oprah Magazine, and best friends with Oprah Winfrey.
Dr Mark Lupo, the endocrinologist who referred Carson to The Anderson Method, is also the president of the Academy of Clinical Thyroidologists. Lupo wrote the forward to the book, loves its no-nonsense approach based on sound science and medicine, but endorses it because it works. "I have seen more weight loss and lasting success with patients using The Anderson Method than with any other treatment. It is far superior to medications, diets or surgery-- an entirely different approach." The method is also embraced by experts in behavioral science. Dr Harris Stratyner, Clinical Associate Professor of Psychiatry at Mount Sinai Medical School in New York and internationally recognized authority in behavioral medicine recently featured The Anderson Method on his WFAS radio show. Dr. Stratyner is also Vice President of Clinical Services at Caron Treatment Centers in New York.
The Anderson Method is neither a diet nor exercise plan. It is a psychotherapeutic solution, where the program creates a permanent change in a person's automatic habitual behavior and thinking patterns. Developed by psychotherapist William Anderson, and provided in a structured training program by behavior therapists, it has been remarkably successful in helping people to lose weight and maintain that success. With his new book, Anderson hopes to spread his success to anyone who wants it, regardless of their location or economic status.
Anderson attributes the discovery of his unique methods to his own struggles trying to lose weight, as well as his training as a psychotherapist specializing in habit control and addictions. Anderson himself was a failed dieter, obese and morbidly obese for twenty-five years until he developed his methods and lost 140 lbs. over twenty years ago. He has maintained his ideal weight of 180 lbs. since, and devoted himself to teaching his unique methods to his clients and other therapists.
Carson is continually basking in her improved health and success now. She's looking forward to another celebration this month at the University of West Georgia, where she will accept the Outstanding Alumni Award, and lead the school's annual homecoming parade. "It's a dream come true that I almost gave up on" she said. "I'm glad I kept hoping for a solution, because I finally found it."
More information about The Anderson Method weight loss plan, a revolutionary new method for losing weight, and its author, William Anderson, LMHC can be obtained at http://www.TheAndersonMethod.com.
###