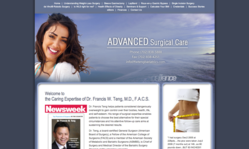 Las Vegas, NV (PRWEB) December 01, 2011
A recent statistic released by the Center for Disease Control (CDC) reports that 64% of the U.S. population is overweight and that 33.8% of the population (or 72 million people) is obese. The study shows that these numbers have consistently risen since 1960 when the obesity rate was at just 13%. At his Las Vegas bariatric surgery practice, Advanced Surgical Care, Dr. Francis Teng says that as obesity statistics rise in America, weight loss surgery options, including the LAP-BAND® System or gastric sleeve procedures have become an increasingly popular and viable option. He adds that choosing the right surgeon for LAP-BAND® System surgery in Las Vegas can help patients get control over their bodies, health, and self-esteem.
The CDC study also found that medical costs resulting from obesity-related health complications recently totalled $147 billion in 2008. With such a high level of spending on preventable health issues, Dr. Teng says weight loss surgery may be an effective way to cut down on these costs and promote a healthier lifestyle. He recommends researching as many different aspects of bariatric surgery as possible before undergoing such a significant weight loss procedure. He also says that choosing a surgeon with a passionate and genuine dedication to patients is the most important quality when considering a weight loss surgery practice.
Dr. Teng adds that his practice seeks to provide safe and comprehensive surgical and post-operative care to each individual through a personalized weight loss plan. He also suggests finding a surgeon who is board-certified and experienced in bariatric surgery ensures that patients will achieve the highest quality results.
About Francis W. Teng, MD
Dr. Francis Teng completed his surgical residency at Cedars-Sinai Medical Center in Los Angeles. As a board-certified General Surgeon, a Fellow of the American College of Surgeons, and a member of the American Society of Metabolic and Bariatric Surgeons, he is the past Chief of Surgery and Medical Director of the Bariatric Surgery Program at MountainView Hospital. Dr. Teng has also been selected as a Top Doctor 2011 by Seven Magazine and Las Vegas Life.
Located at 3150 N. Tenaya, Ste #680 in Las Vegas, NV, Advanced Surgical Care can be contacted at (702) 838-5888. The practice can also be reached online fwtengbariatrics.com or facebook.com/pages/Francis-W-Teng-MD/109687049070704.
# # #