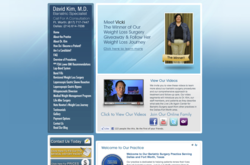 A good bariatric surgeon and his staff provide support much like a life coach may help a patient who has lost their way.
Dallas, TX (PRWEB) December 07, 2011
Dr. David Kim, a bariatric surgeon in Dallas, recently discussed the misconceptions of weight loss surgery procedures amongst patients in a Dallas Morning News story that ran on the cover of the Arts & Life section. The report features Dr. Kim and one of his more publicly visible patients, former Dallas Cowboy and Super Bowl champion Nate Newton. Weighing in excess of 400 pounds, Newton lost over 200 pounds in the course of a year following a vertical sleeve gastrectomy procedure. While many patients view weight loss surgery as a quick-fix solution to their obesity problems, Dr. Kim says procedures such as the LAP-BAND® System are merely tools to help patients in the direction of a healthier life. He adds that a strict regimen of eating right and exercise is essential for the proper results and the reduction of health complications.
Along with healthy dietary choices and regular physical activity, Dr. Kim says proper vitamin and supplement intake is required in order to ensure patients maintain proper levels of nutrients. With a procedure like LAP BAND surgery in Dallas, he says the stomach is restricted and is unable to absorb the same level of essential nutrients, so patients must be diligent in taking vitamin and mineral supplements following treatment. Dr. Kim also adds that weight loss procedures at his practice are accompanied by support groups and programs to help patients implement the necessary changes in their daily life after surgery. "I often ask patients to reflect on unhealthy ways that have become habits and are difficult to break. Bariatric surgery is a restart, another chance to live a long and healthy life. So I ask them what they are going to do differently this time."
Dr. Kim says patients who are considering bariatric surgery should be ready for the lifestyle implications that will result from such an undertaking. He says that finding the proper practice and surgeon can help facilitate this process and ensure that every patient has the support needed to change their life and start living healthier. "A good bariatric surgeon and his staff provide support much like a life coach may help a patient who has lost their way. This can come in many forms, such as dietary education, new ways to make exercise fun, and motivation to live better every day."
About David D. Kim, MD
Following his completion of the medical degree program at Northeastern Ohio University College of Medicine, Dr. David Kim went on to a general surgery residency at Case Western Reserve University in Cleveland, Ohio and a peripheral vascular surgery fellowship at Ohio State University. He has also completed fellowships in advanced laparoscopic bariatric surgery at both the Medical College of Virginia and Washington University in St. Louis, MO. Dr. Kim is a Fellow of the American College of Surgeons, is board-certified by the American Board of Surgery, and is a member of the American Society for Bariatric Surgery, the Tarrant County Medical Society, and the American Society of General Surgeons. He is also a recipient of the "Surgeon of Excellence" award, "Physician of the Year" at North Hills Hospital, and has been selected as a "Top Doc" in Fort Worth Magazine by his peers. Dr. Kim was the first surgeon to perform laparoscopic gastric bypass in Fort Worth.
Dr. Kim's practice is located at 35 Veranda Lane Ste 100 in Colleyville, TX and can be reached by Fort Worth patients at (817) 717-7447 and Dallas patients at (214) 614-6127. He can also be contacted online via the websites drdkim.net, mylapbanddallas.com, or http://www.facebook.com/lapbanddallas.
###