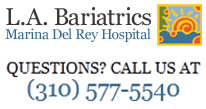 I needed to put myself first and make my health top priority. Because I couldn't be a better person, a better wife and a better mother until I did. - Lena
Los Angeles, CA (PRWEB) March 12, 2012
The people that gathered on Feb. 18 in a Marina del Rey ballroom didn't all know each other, but they shared a common bond — determination, success, and improved quality of life.
65 Marina Del Rey Hospital bariatric surgery patients gathered that afternoon to celebrate each other's weight-loss triumphs. 15 patients who had reached their goal weight were honored by the attendees and staff members.
"My work as a surgeon starts them on the road to weight loss, but surgery isn't an easy way out," said Dr. Jeremy Korman, the medical director for Marina Del Rey's bariatric program. "These patients should feel very proud of the remarkable weight loss they've achieved, as well as all the hard work and dedication it took."
The attendees included patients who have reached their goal weight with the aid of gastric bypass, lap band, sleeve gastrectomy, gastric plication, or other procedures; patients who are continuing to work toward their goal weight; and their loved ones.
Patients who had reached their goal weight were congratulated by the crowd. Pictures from before they began their weight loss journey were displayed on a projector, and the patients came forward to give brief speeches. They recounted how their procedures had changed their lives and gave encouragement to their fellow patients who had yet to achieve their goal weight.
One speaker, Lena, said that having surgery was the best decision she could have ever made.
"The path I was on was clearly destructive," Lena said. "I needed to put myself first and make my health top priority. Because I couldn't be a better person, a better wife and a better mother until I did. Now I'm Dr. Korman's biggest fan and proud to have his staff on my team."
Lena has lost over 130 pounds and maintained her weight since undergoing gastric bypass in 2009.
Another patient, Rachel, said that after giving birth to her son, now 3, she was embarrassed to be seen because of the weight she had gained over the years.
"It was really hard for me because I was so proud of this beautiful baby and I wanted everyone to come see him and take joy in this beautiful part of my life, but it's so funny the way people are," she said. "They would say, 'Oh, the baby's so nice, but what's going on with you?"
She underwent weight loss surgery with Dr. Korman and his team at Marina Del Rey Hospital. With the surgery and the hard-won habit of careful meal planning, her life is transformed, she said. She went back to school and got her degree, and she feels better than she did at 21.
This January, she celebrated a double milestone: "On the day I turned 30 I also hit my 100-pound weight loss."
"Now my son's almost three, and I'm walking with him in the stroller, and people are saying, 'Yeah, I recognize your son, but who are you?' I'm happy! It's good! I'm that mom at the park that people come up to and say, 'Wow, you had a baby?' 'Yes, I did!' It's a good place to be."
About Marina Del Rey Hospital
Marina Del Rey Hospital in Los Angeles is a boutique surgical hospital focusing on bariatric, spine, orthopedic, and minimally invasive surgery. The multidisciplinary medical team at L.A. Bariatrics, the bariatric surgery program at Marina Del Rey Hospital, offers patients excellent care. As a Bariatric Surgery Center of Excellence, this weight loss center meets high standards for experience in bariatric procedures and inpatient care.
About L.A. Bariatrics & Dr. Jeremy Korman
Dr. Jeremy Korman is the medical director of L.A. Bariatrics and a leading expert in the field of bariatric medicine, and he has successfully performed over 1,000 weight loss surgical procedures on patients from all over the United States. Dr. Korman and his multidisciplinary team focus on helping patients to realize their weight loss goals and achieve better health. L.A. Bariatrics, located at Marina Del Rey Hospital, is certified by the American Society of Metabolic and Bariatric Surgery as a Bariatric Surgery Center of Excellence, confirming that its staff has extensive, specialized experience and that the facility has passed rigorous inspections. The L.A. Bariatrics team combines exceptional surgical outcomes with nutritional, psychosocial and exercise support for all patients within the program.