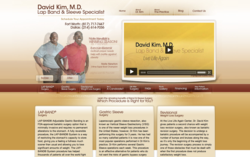 Dallas, TX (PRWEB) November 08, 2011
Medical Device Daily recently released an article featuring Texas bariatric surgeon Dr. David Kim on the release of the V-Loc PBT, the latest wound closing device from Covidien. The V-Loc PBT has been FDA-cleared and prepared for launch as the first non-absorbable, uni-directional barbed suture. At his Dallas weight loss surgery practice, Dr. Kim says the innovative suture provides benefits in accuracy and uniformity during general and bariatric surgical procedures. He also says he uses the device to ensure security of the suture through another tissue layer during a procedure such as gastric bypass or gastric sleeve in Dallas.
The V-Loc PBT device utilizes advanced barbing technology, which reduces the amount of foreign body to the tissue. Dr. Kim also notes that the procedure can be performed much more quickly because it incorporates a self-anchoring loop and barb combination and eliminates the need for knot-tying during the suture. He adds that another major benefit of the barbed suture is that tension is distributed evenly across the wound, meaning less tension on the ends and a facilitated closure of multiple layers of tissue simultaneously. Because the device is non-absorbable, Dr. Kim says the V-Loc PBT can offer added mechanical strength for extended periods of time without sacrificing patient comfort.
Dr. Kim says he is excited about the recent advancement in wound closure technology because it helps both patients and surgeons feel more comfortable with the post-operative recovery and healing process. By eliminating knot-tying and reducing tension on the wounds, he says physicians can achieve the highest quality results and the minimum amount of patient discomfort. Dr. Kim also says he hopes this new device will help further promote the development of surgical techniques and patient care.
About David D. Kim, MD
Dr. David Kim graduated with a Bachelor of Science degree in Chemistry from Youngstown State University and received his medical degree from Northeastern Ohio Universities College of Medicine. He completed his residency in general surgery at Case Western Reserve University School of Medicine, where he served as Chief Resident of General Surgery during his final year. Dr. Kim has also completed a Fellowship in Peripheral Vascular Surgery from Park Medical Center and a Fellowship in Laparoscopic Gastric Bypass from the Medical College of Virginia. He has been named a "Surgeon of Excellence" among other honors in bariatric and weight loss surgery. Dr. Kim is certified by the American Board of Surgery. He is a Fellow of the American College of Surgeons, and a member of the American Society for Bariatric Surgery, the Tarrant County Medical Society, and the American Society of General Surgeons.
About Covidien
Originally founded in 1994 as Tyco Healthcare until its name change in 2007, Covidien creates medical solutions through global healthcare products dedicated to innovation and long-term growth. It has developed modern medical technology and devices in soft tissue repair, vascular surgery, respiratory and monitoring, nursing, imaging, pharmaceuticals, and several other divisions of healthcare products.
Located at 35 Veranda Lane Ste 100 in Colleyville, TX, Dr. Kim's practice can be reached by Fort Worth patients at (817) 717-7447 and by Dallas patients at (214) 614-7036. It can also be contacted online via the website mylapbanddallas.com, http://www.drdkim.net, or facebook.com/lapbanddallas.
###