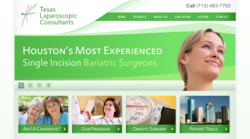 Houston, TX (Vocus/PRWEB) March 16, 2011
Sherman C. Yu, MD is a board-certified bariatric surgeon in Houston, TX, and has recently performed the vertical sleeve gastrectomy using the SPIDER ® Surgical System for the first time in the Houston-area. The technology is unique to this SPIDER device specifically, as it contains four working channels that allow Dr. Yu to insert a camera and instruments with true left and true right capabilities, meaning he does not have to cross his hands to operate. "The benefits of SPIDER ® are truly significant, as the patient's pain and recovery time are minimized without leaving a visible scar."
A vertical sleeve gastrectomy is typically reserved for severely obese patients; however, it is also one of the fastest growing bariatric procedures. Before the SPIDER ® Surgical System, Dr. Yu relied on traditional laparoscopic techniques and equipment that required five separate incisions in the patient's abdomen. "Instead of making several incisions for surgical instruments, I simply make one small incision that's hidden in the patient's belly button and insert the SPIDER ®."
As a highly experienced single-incision weight loss surgeon, Dr. Yu says he is proud to push the cutting-edge of medical technology, and believes doing so will inspire further innovations in minimally-invasive bariatric surgery. He adds that increased safety and effectiveness often accompany innovation in the medical field, which is especially important when supporting weight loss surgery patients as they dedicate themselves to a healthier lifestyle and an important transformation.
About Dr. Sherman Yu
Sherman C. Yu, MD earned his medical degree at Baylor College of Medicine, and completed his surgical training at the University of Colorado Health Sciences Center in Denver. After completing his service as Chief Resident in surgery, he completed a fellowship in minimally-invasive and robotic surgery at the University of Texas Health Science Center, where he focused on bariatric surgery. Dr. Yu is the Bariatric Medical Director at Park Plaza Hospital, and continues to dedicate himself to the comprehensive treatment of obesity. He is a member of the American College of Surgeons, the American Society of Metabolic and Bariatric Surgery, and the Minimally-Invasive Robotics Association.
Texas Laparoscopic Consultants is located at 1200 Binz, Suite 950 in Houston, TX 77004, and can be reached at (713) 493-7700, or found online at http://www.tlcsurgery.com or the Texas Laparoscopic Consultants Facebook page.
###