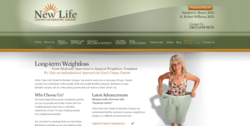 Knoxville, TN (Vocus/PRWEB) April 05, 2011
Dr. Wood of Carson Newman College and Jama Stinnett, program coordinator at the New Life Center for Bariatric Surgery will deliver a presentation at the 28th annual meeting of the American Society for Metabolic and Bariatric Surgery (ASMBS), which will be held at the Gaylord Palms Resort and convention Center in Orlando, FL from June 12-17, 2011. "Thank You for my New Life: The Bariatric Post-Op Experience" is based on a research report coauthored by Dr. Boyce, Jama Stinnett, LPN, CPHQ of the New Life Center for Bariatric Surgery, and Dr. Angela Wood of Carson-Newman College.
Dr. Boyce says the presentation explores patient changes during the 12 to 18 month period following bariatric surgery, based on the specific experiences of seven patients. He adds that Dr. Angela Wood and Jama Stinnett will present the findings of the report at the invitation of the ASMBS Program Committee during the Integrated Health Main Session. The annual meeting of the ASMBS draws more than 2,200 of the top metabolic and bariatric surgery professionals from the U. S. and beyond. Dr. Boyce says he looks forward to the event and is especially interested in the impact this innovative study will have on the future of weight loss surgery, and procedures such as the LAPBAND System® and vertical gastric sleeve.
About Dr. Boyce
Stephen Boyce, MD earned his medical degree from the University of Texas Southwestern Medical School. He completed his surgical residency at Parkland Memorial Hospital where he worked with several leading pioneers of the weight loss surgery field. Dr. Boyce's New Life Center for Bariatric Surgery is an ASMBS-designated Bariatric Surgery Center of Excellence®. He also supports patients with a bariatric supplement and vitamin brand designed to improve the overall success rate and health of each patient.
New Life Center for Bariatric Surgery is located at 200 Ft. Sanders West Blvd., MOB 1, Suite 200, in Knoxville, TN 37922, and can be reached at (865) 694-9676, or found online at http://www.parkwestcwlc.com, http://www.newlifebariatricsupplements.com, or the New Life Center for Bariatric Surgery Facebook page.
###