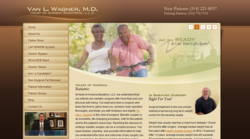 St. Louis, MO (Vocus/PRWEB) March 29, 2011
With about 11 million people in the U. S. weighing 80-100 pounds more than what's thought to be the average weight for their size, St. Louis bariatric surgeon, Dr. Van Wagner, is using a new weapon in the fight against obesity: single-incision weight loss surgery. He says he understands weight loss surgery is a complex decision for the growing number of Americans confronting their continuing battle with weight gain, and is proud to be able to provide his patients with the new technique to make scarring virtually unnoticeable and recovery more comfortable. As the only bariatric surgeon in St. Louis specializing in the PULSsm single incision weight loss procedures, Dr. Wagner is currently celebrating the success of the 300th single incision weight loss surgery at his Heart of America Bariatric practice.
Single-incision weight loss surgery is a technique which uses small diameter medical instruments and a camera to perform the surgical procedure. Dr. Wagner makes a semi-circular incision near the navel that is about two inches in length, which is required for placement of the port in gastric banding surgery. A liver retractor, camera and two operating instruments are placed through the single incision. He then performs the surgery with the aid of the video monitor. The single-incision technique eliminates the need for multiple incisions throughout the wall of the abdomen usually required in more traditional laparoscopic weight loss surgeries, which may cut down on recovery time and post-operative scarring. Dr. Wagner performs all gastric band surgeries using the PULSsm technique, unless there is an anatomical or medical reason to use the traditional laparoscopic approach.
With more than 1,000 St. Louis laparoscopic adjustable gastric banding system procedures performed, utilizing both LAP-BAND® and REALIZE® Bands, Dr. Wagner continues to foster a successful environment for his patients from the initial educational seminars, to the first consultation, through the recovery process. Heart of America Bariatrics is also unique as it is the only practice in Missouri that uses an office-based state of the art fluoroscopic x-ray machine to perform all laparoscopic adjustable gastric banding system adjustments, including needle localization of the port to minimize discomfort, and Upper GI contrast studies to monitor amount of restriction through the gastric band.
To further customize the bariatric surgical process, Dr. Wagner offers gastric bypass in St. Louis. He says the Laparoscopic Roux-en-Y gastric bypass (LRYGB) procedure is one of the most effective and popular procedures in the battle against morbid obesity. Instead of the traditional long tubular stomach pouch, Dr. Wagner specializes in this less invasive laparoscopic procedure, which is a newer and safer version that creates a small stomach pouch about the size of an egg, and requires less recovery time while reducing the risk of infection. While progress is monitored throughout the process at the Heart of America Bariatric center, normal daily routines are typically resumed within two to three weeks, with dramatic weight loss of up to 80% possible within the first year following surgery.
Dr. Wagner also offers the gastric sleeve in St. Louis, which is a newer bariatric procedure. According to Dr. Wagner, the use of the gastric sleeve procedure, which he performs laparoscopically with the PULSsm technique, is an ideal procedure for patients who have a lower BMI (around 50 or less) and who would not want a gastric band. He is the only surgeon in the area who performs the PULSsm technique for all his sleeve gastrectomy patients, unless the traditional laparoscopic approach is indicated for medical or anatomical reasons.
While each of these procedures is designed to help patients with their weight loss struggles, Dr. Wagner stresses that his St. Louis weight loss surgery patients need to understand significant dietary changes are required to ensure eventual success with any of these innovative procedures offered by Heart of America Bariatrics. With more than 1000 laparoscopic adjustable gastric banding procedures, 500 laparoscopic gastric bypass surgeries, 25 laparoscopic sleeve gastrectomies now performed, including over 300 patients weighing between 350 and 550 pounds, and over 575 patients with a BMI of 50 to 92, Dr. Wagner says he continues to balance experience and education in all areas of bariatric surgery to ensure the highest rate of success with all of his patients. As Heart of America Bariatrics celebrates the 300th single incision procedure, Dr. Wagner says he will continue to concentrate on making his patients more comfortable while remaining dedicated to their successful weight loss.
About Dr. Wagner
Dr. Wagner received his Medical Degree from New York Medical College in Valhalla, and completed his general surgery residency at the University of Medicine and Dentistry of New Jersey. He is board-certified by the American Society for Bariatric Surgery, of which he has also been a member since 2004. Dr. Wagner's practice, Heart of America Bariatrics, has been recognized as a Bariatric Center of Excellence since 2006 as well.
Dr. Wagner and his Heart of America Bariatrics practice are located at the Doctors Building of South County 1400 Lemay Ferry Rd. Suite A, St. Louis, MO 63125 and be reached at (314) 776-7112 or http://www.hoab.org/ or the Heart of America Bariatrics, LLC Facebook page.
###