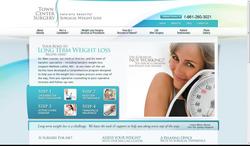 Valencia, CA (Vocus) May 25, 2010
According to data from the Center for Disease Control, 25.6% of all Americans are obese. The rate of obesity has grown over the past few decades in the United States as many men and women have begun to exercise less and eat more fatty and sugary foods. The effects of eating poorly and living a sedentary lifestyle have been studied extensively and the conclusions are very clear. Men and women who are severely overweight or obese are at a greater risk for high blood pressure, diabetes, strokes, and cancer, and premature death.
At Town Center Surgery, medical director Marc Lussier, MD and the staff at his center offering LAP-BAND® System surgery counsel overweight and obese patients on how they can improve their health and increase their lifespan with procedures available from their Valencia bariatric surgeon. For many men and women who suffer from obesity, weight loss surgery in Valencia can be the most effective method for losing extra pounds once and for all after rigorous diet and exercise have produced little to no results. A procedure known as LAP-BAND® Adjustable Gastric Banding is performed to divide the stomach into two sections. Most of the food that the patient consumes is digested in the upper, smaller section of the stomach and is slowly released into section below. As a result, patients who undergo LAP-BAND® Adjustable Gastric Banding are able to consume significantly fewer calories after surgery yet still experience the sensation of fullness.
In addition to offering the LAP-BAND® surgery in Valencia, the bariatric surgeon also performs REALIZE® Band surgery. This procedure is similar to LAP-BAND® Adjustable Gastric Banding but uses a wider band to divide the stomach and help control hunger.
Many patients who visit Dr. Lussier's Valencia weight loss surgery practice do not need to hear all of the many health reasons or listen to the scientific studies on why undergoing treatment for obesity is so important. They are already motivated to lose weight in order to live more fulfilling, active lives with their families and loved ones, and to increase the length of time they hare to share these experiences. A study published in Archives of Surgery in January 2010 shows that obese women are likely to gain almost 3 years of life expectancy by undergoing bariatric surgery. Similar studies have shown that male bariatric surgery patients who are obese can increase their life expectancy by 2.6 years.
For most patients, the rewards of bariatric surgery far outweigh the risks. However, as with any surgical procedure, Dr. Lussier says it is important to consider that complications can arise from LAP-BAND® Adjustable Gastric Banding and REALIZE® Band surgery. He says a qualified, experienced bariatric surgeon can minimize these risks and help ensure that treatment is safe and effective.
About Dr. Marc Lussier
Dr. Marc Lussier is the medical director of Town Center Surgery. Board-certified in plastic surgery, by the American Board of Plastic Surgery, Dr. Lussier earned his MD from the University of Minnesta School of Medicine, and was trained in General Surgery at New York University Medical Center. He attained his Plastic Surgery Residency at Baylor College of Medicine, followed by a Hand Microsurgery Fellowship at the University of Southern California. Dr. Lussier is a Diplomate of the American Board of Plastic Surgery, a Fellow of the American College of Surgeons, and a member of the American Society of Plastic Surgeons, the American Society of Aesthetic Plastic Surgery, and the Los Angeles Society of Plastic Surgeons.
Town Center Surgery is located in Valencia, California at 24510 Town Center Drive, Suite 180. Dr. Lussiers' offices can be reached at 661-260-3021.
###