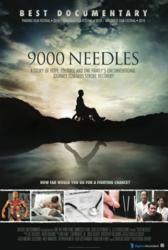 The power of this movie is not just stemming from this family's journey, but the power of Chinese medicine and the effectiveness of it, even in severe conditions like stroke and heart attack
San Francisco, CA (Vocus/PRWEB) April 20, 2011
The American College of Traditional Chinese Medicine (ACTCM) is proud to present a screening of the documentary 9000 Needles, which tells the incredible story of a Kentucky man's journey to China to receive traditional Chinese medical treatment after a debilitating stroke. ACTCM will screen the award-winning film at the California Institute of Integral Studies on April 29th, 2011 at 7 pm. At the screening, movie director, Doug Dearth will host a Q&A session for audience members.
"The power of this movie is not just stemming from this family's journey, but the power of Chinese medicine and the effectiveness of it, even in severe conditions like stroke and heart attack," says Alissa Cohan, Director of Communications for ACTCM.
The film follows Devin Dearth, a successful businessman in Kentucky with a wife and three kids, and his journey through life after a semi-paralyzing stroke. Due to a lack of resources, in terms of finances and scope of care, Devin's brother proposes that they travel to China to participate in an affordable and promising stroke rehabilitation program integrating Western and traditional Chinese medicine to treat stroke victims. The film follows Devin through the journey of trials and tribulations he endures and the faith and determination that allow him and his family to persevere.
9000 Needles has received numerous awards at film festival screenings including "Best Documentary" at the Phoenix Film Festival, DocuWest Film Festival, Temecula Valley International Film Festival and more.
Watch the trailer for 9000 Needles at http://9000needles.com/9,000_Needles/Watch_Trailer.html.
ACTCM welcomes the entire San Francisco community to the California Institute of Integral Studies (1453 Mission Street at 10th) to enjoy and learn from the documentary together.
For more information about the 9000 Needles screening, or any of the American College of Traditional Chinese Medicine's classes or degrees, call (415) 202-5713 or visit their website at http://www.actcm.edu.
About the American College of Traditional Chinese Medicine
The American College of Traditional Chinese Medicine (ACTCM) has been at the forefront of educating student in Traditional Chinese Medicine in the Bay Area since its inception in 1980. Their two degree programs—the Master of Science in Traditional Chinese Medicine (MSTCM) and the Doctorate of Acupuncture and Oriental Medicine (DAOM)—provide a truly exceptional professional education.
ACTCM's community clinics serve as a diverse and demanding training ground for their students, while providing affordable health care services to the community. ACTCM's certificate programs in Tui Na and Shiatsu and its introductory classes for the public offer additional educational opportunities for current ACTCM students, healthcare professionals and the general public.
Bay Area acupuncture treatment, as taught by ACTCM, restores balance and health, and is used for everything from chronic pain to drug dependence. It is also effective for allergy relief, weight loss, pain management and fertility treatment. During treatment sterile, disposable needles are inserted at acupuncture points along the meridians. Because of the thin and pliable needles used, most people feel little to no discomfort as the needles are inserted, and patients often feel energized or a deep sense of relaxation and well-being.
# # #