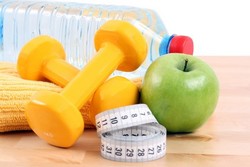 Hobart, IN (Vocus) May 11, 2010
With swimsuit season right around the corner, Botanic Choice has just revealed its list of 20 tips for easy, natural weight loss.
1. Chew slowly to enhance digestion and savor the flavor. It takes 20 minutes for the brain to receive signals that the stomach is full.
2. Eat small meals several times a day.
3. During the meal, drink water between bites.
4. Eat a piece of fruit before dinner. An apple provides 5 grams of fiber and helps curb appetite while also enhancing digestion.
5. Use a smaller salad plate for dinner.
6. Increase movement. Park at the far end of the parking lot and take the stairs.
7. Stand up. Standing burns more 40 more calories an hour than sitting.
8. Choose whole grain bread with at least 2 grams of fiber per slice.
9. Cut out regular and diet soda. By eliminating soda, individuals have reported a weight loss of 10 pounds in one year.
10. Use one slice of bread for a sandwich or wrap in lettuce.
11. Get 8 hours of sleep.
12. Start slow by eliminating just one type of food or taking a stroll around the block.
13. Go nutty. Contrary to popular belief, nuts are great for weight loss because they are filling and provide protein.
14. Don't skip meals. It sends the body into starvation mode so next time it receives nutrition, it banks the calories for the next "famine."
15. Brush after each meal. There's less temptation to snack afterwards.
16. Dip it. Put dressing on the side and dip your salad into it.
17. When talking on the phone, walk around. Walking for 15 minutes a day at 3 mph will burn an extra 1,200 calories a month.
18. Eat protein at each meal. It fills, satisfies and takes longer to digest.
19. Avoid processed and white foods which are high in calories, sodium and preservatives.
20. Splurge occasionally. Every now and then, splurge with a half candy bar or half cup of ice cream.
About Botanic Choice
Indiana Botanic Gardens, Inc. is a leading provider of more than 500 high-quality nutritional supplements, including its best-selling Apple Cider Vinegar Plus for weight loss support. Their line of vitamins, aromatherapy, homeopathy, and herbal remedies are sold through their catalogs, web site BotanicChoice.com, and retail store at 3401 West 37th Ave, Hobart, Indiana (800-644-8327). Customers can call anytime for a free catalog.
###