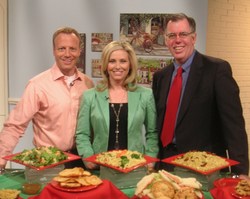 MedWell 1-2-3 products make it easy for people to prepare simple breakfasts, lunches and dinners that control hunger for up to six hours between meals. If you aren't hungry, then cutting back on calories is easy, especially when eating foods you love to eat
Rocky Hill, CT (PRWEB) June 2, 2008
Appearing on Connecticut's hit CBS-TV morning talk show, Better Connecticut, Dr. Barry Sears said MedWell 1-2-3™ healthy comfort foods of breads, pasta, bagels and cookies help people fight obesity and better manage type 2 diabetes.
Better Connecticut show hosts Kara Sundlun, a two-time Emmy Award winning journalist, said a MedWell bagel "tastes just like a bagel," and Scot Haney, The Hartford Advocate's eight-time winner as Best News Personality in Connecticut, called the MedWell cookies "delicious."
The #1 New York Times bestseller author of The Zone and other books, Dr. Sears told WFSB-TV CBS-affiliate show viewers that "MedWell foods are for people wanting to lose weight and better manage type 2 diabetes with the least amount of effort because they are eating the foods they like to eat."
Sundlun asked Dr. Sears why MedWell products are so healthy, and he explained that MedWell healthy comfort foods are made with one part fat for every two parts of protein and three parts of carbohydrates that alter the body's hormonal responses causing suppression of appetite for up to six hours. For that reason, he named the MedWell healthy comfort foods MedWell 1-2-3.
Dr. Sears said MedWell healthy comfort foods of pasta, bagels, rolls, bread, croutons, bagel chips, cookies and more "make the loss of excess body fat easy, inexpensive and delicious." MedWell delivers a week's supply of food by UPS to customers to enjoy three meals and snacks everyday at a cost of just $10 a day.
"MedWell 1-2-3 products make it easy for people to prepare simple breakfasts, lunches and dinners that control hunger for up to six hours between meals. If you aren't hungry, then cutting back on calories is easy, especially when eating foods you love to eat," he said. "If people can lose excess weight with the least change in their current eating habits, then that's the ideal foundation for long-term weight control."
On another recent TV show, Fox TV's Good Day New York, Dr. Sears discussed the epidemic rates of obesity and type 2 diabetes.
"The national problem prompted me to begin work three years ago to develop an affordable, easy-to-follow solution so that people can eat the foods they like to eat and achieve the benefits of weight loss and better managing type 2 diabetes with the least amount of effort. MedWell Foods is the result of that effort," he said.
"Although I have written for the past 13 years about the power of diet to change the expression of our genes, now with MedWell 1-2-3 food products my vision has become a reality. MedWell healthy comfort foods also come with a wide variety of recipes as a guide so people can prepare individual meals to their own tastes."
Available at http://www.medwell123.com or through the MedWell customer service center at 866-633-7898, MedWell Healthy Comfort Foods arrive fresh and make food shopping very convenient.
Dr. Sears is an international authority on the hormonal responses induced by our diet. His books have sold more than 5 million copies in the United States and have been translated into 22 languages, providing a global foundation for the distribution of MedWell 1-2-3™ food products to help people lose weight and fight type 2 diabetes.
###