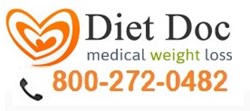 Prescription hormone diet plans are created for those who are struggling to lose that stubborn last 10 pounds to those that must lose 100 pounds or more
Charlotte, NC (PRWEB) November 26, 2013
Carrying excess weight encourages many diseases and conditions and restricts quality of life. Diet Doc knows that it is never too late to make a lifestyle change & set a good example for children by committing to losing unhealthy excess weight.
A recent study, conducted by Cincinnati Children's Hospital Medical Center in Pittsburgh, and reported by Medical News Today, revealed that those who suffered from obesity as teenagers were far more likely to develop a multitude of adverse health conditions in adulthood related to carrying excess weight. These studies prove that obesity can be a lifelong and life threatening condition. Carrying excess weight not only encourages many diseases and conditions, but also restricts one's quality of life. It is never too late to make a lifestyle change by committing to losing unhealthy, restrictive excess weight. The professionals at Diet Doc have developed hormone diet plans focused on helping even those who have struggled with weight loss unsuccessfully in the past to lose excess weight and break the cycle of weight gain, while also teaching patients to be a positive role model to help their children, avoiding teenage obesity.
Subsequent to a health evaluation and physician consult, patients will work closely with Diet Doc's certified nutritionists, who are specially trained in the science of safe and fast weight loss, and who intimately understand how the body reacts to specific foods. Diet plans that are safe, effective and convenient, offering long term lifestyle results, will be uniquely designed. Prescription hormone diet plans are created for those who are struggling to lose that stubborn last 10 pounds to those that must lose 100 pounds or more. By working personally with each patient, the diet plans are sure to fit comfortably into each patient's particular lifestyle while being compatible with individual nutritional and medical needs. These diet plans, when complemented with Diet Doc's prescription hormone treatments, deliver the safest and most rapid weight loss available, while also helping parents to be a positive role model for their children by making healthy food choices and losing unhealthy excess weight.
Qualified patients will receive Diet Doc's 100% pure prescription hormone treatments, which are typically administered once daily under medical supervision. This powerful combination turns the body into a fat burning machine by signaling the brain to release years of unused, stored fat that has been trapped in the cells of the body and melting this fat from the most stubborn areas of the body. To assure the safest, most effective and most comfortable transition, each patient's journey is medically supervised and progress is monitored with weekly checkup calls. All patients receive personalized attention with the clinical staff being easily accessible via phone and e-mail and available 6 days per week for consultation and eager to lend unlimited support, guidance and encouragement throughout each phase of the prescription hormone diet plans.
By losing excess weight, parents will not only improve their quality of life, reduce their risks for weight related diseases and conditions, but will also influence their children to make healthy food choices so that they may avoid suffering from the physical and emotional effects of carrying excess weight throughout their life.
Diet Doc Contact Information:
San Diego, CA
(800) 272-0482
Weight-loss(at)Dietdoc(dot)info
http://doctorsupervisedweightloss.com/testimonials.php
Twitter: DietDoc10
Facebook: DietDocNaturalHealth