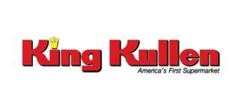 Bethpage, NY (PRWEB) April 23, 2013
King Kullen Grocery Co., Inc. ("King Kullen") recently celebrated the second anniversary of the launch of the NuVal Nutritional Scoring System ("NuVal") in its stores. NuVal helps shoppers cut through confusing nutrition information to help them make decisions about food quickly and easily by providing comprehensive nutritional information in one simple number, between 1 and 100. King Kullen is proud to be the only retailer on Long Island offering NuVal scores to its customers.
Developed by an independent panel of nutrition and medical experts, NuVal assigns a score to food, based on its nutritional value. The higher the NuVal Score, the better the nutrition. The scores are displayed in every aisle of King Kullen grocery stores, on the shelf tag in a double-hexagon emblem next to the price. The NuVal Score allows shoppers to compare the overall nutrition of products, the same way they would compare price.
NuVal Scores are now available in all 41 King Kullen stores throughout Long Island. Over 16,000 scored items can be found in King Kullen, and additional products are scored every month. King Kullen helps promote the use of NuVal scores by regularly conducting nutrition tours, where its NuVal team educates consumers, school groups, and more on how to use NuVal to make better food choices. King Kullen regularly conducts tours for Boy Scout and Girl Scout groups, as well as school field trips. The NuVal team also travels to local schools for assemblies and health events. NuVal is also regularly presented to college students, hospital groups and many more. NuVal tours in the Long Island area can be scheduled by contacting NuVal(at)kingkullen(dot)com.
About the company:
Headquartered in Bethpage, New York, King Kullen Grocery Co., Inc. is recognized by the Smithsonian Institution as America's first supermarket. Michael J. Cullen opened the doors to King Kullen in 1930. Today, three generations later, King Kullen is still family owned and operated. It remains a leader in the supermarket industry. From that very first store in 1930, King Kullen today operates 41 supermarkets and four Wild by Nature stores across Long Island. In addition to traditional grocery, King Kullen features a large catering and prepared foods department, freshly baked breads and sweets, and healthy and organic areas, with pharmacies in many stores as well.