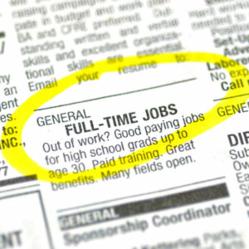 Weight-based discrimination is still common in the workforce...Weight can hold a person back from getting a job and not many regulations are in place
Los Angeles, CA (PRWEB) July 12, 2012
"Fat, lazy and unproductive" might be some of the stereotypes that ring true to employers who reject an obese applicant despite a stellar resume. Published last month in the International Journal of Obesity, a new study examined the role anti-fat prejudice plays in workplace hiring practices.
A group of 95 reviewers acting in the role of employers were shown a group of resumes with an attached photo. To avoid biased results, the true reason for the study was concealed from participants, said lead researcher Kerry O'Brien of Monash University in Australia. Asked to determine the likelihood of selecting a potential candidate and her starting salary, the "employers" were shown a group of resumes with equivalent skills, experience and education.
What the reviewers did not know was that the pictures clipped to the resumes were of the same six women before and after weight loss surgery. The study results showed that obese women received more negative responses on leadership potential, predicted success, likelihood to select, salary, total employment rating and rank order of preference relative to other candidates.
"The reasons behind obesity discrimination are complex, and perhaps the most prominent theory is controllability theory suggesting that the most stigmatized conditions are those that are widely perceived as controllable," said researcher Janet Latner, a Professor of the Department of Psychology at the University of Hawaii.
Obesity discrimination needs to be addressed, "particularly against females, who tend to bear the brunt of anti-fat prejudice," said O'Brien. O'Brien recommended introducing policies to reduce prejudice.
Weight bias and stigma is the last socially acceptable form of discrimination, said Obesity Action Coalition (OAC) Director of Communications, James Zervios. The mission of OAC is to elevate and empower individuals affected by obesity and provide education, advocacy and support.
"Collectively, we as a society have yet to step back and say 'that can't happen,'" said Zervios, adding that Michigan is the only state with laws prohibiting discrimination on the basis of weight. "[In articles depicting the obese], almost every publication uses a picture of someone of large size just showing their body but cutting off their head. That wouldn't happen for any other condition, like HIV."
Still, it is estimated that obesity causes reduced productivity, millions of lost workdays and more than $70 billion in costs to American businesses every year, according to the new HBO documentary "The Weight of the Nation." The film shows that work site wellness programs have been successful in addressing obesity problems in companies.
Other statistics have shown that between 1997 and 2004, obese workers had seven times the medical costs and had 13 times as much sick time off work compared to other employees, according to a Duke University Medical Center Study.
"When diets and exercise programs all fail, unfortunately many people just give up," said Los Angeles bariatric surgeon Hooman Shabatian. "While prejudice due to weight can definitely lead to discrimination and missed opportunities, obesity can lead to very serious health issues such as high blood pressure and type 2 diabetes."
Weight-based discrimination is still common in the workforce, said researchers, from hiring to firing and every aspect of employment including salaries and promotions. Weight can hold a person back from getting a job and not many regulations are in place to keep companies from hiring who they choose.
Until society changes its bias, there are strategies for the overweight to combat workplace prejudice. Being confident and addressing any potential objections a potential employer might have are among several tips The Council on Size and Weight Discrimination President Miriam Berg recommends to job seekers.
"Bias against people because of their size does not make good business sense," Berg said. "Those employers who overcome their weight prejudice and start hiring and promoting the most qualified workers will have access to the pool of talent that is now being wasted because of unfounded prejudice and false stereotypes."