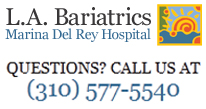 The collective accomplishment and weight loss of these patients is truly inspiring
Los Angeles, CA (PRWEB) January 31, 2012
In a Los Angeles ballroom, a hundred people will soon gather to celebrate victory. They've earned the right to be honored, and they've all fought the same longtime adversary — morbid obesity — and with the help of surgical procedures, their work has paid off.
On Saturday, Feb. 18, at the Courtyard Marriott in Marina Del Rey, L.A. Bariatrics and Marina Del Rey Hospital are hosting the eighth annual Patient Celebration brunch to honor their patients who have achieved their goal weight. More than 500 L.A. Bariatrics patients have been honored for this accomplishment since the program began putting on this event in 2005, with a total combined weight loss of over 50,000 pounds.
"The collective accomplishment and weight loss of these patients is truly inspiring," said Dr. Jeremy Korman, the medical director and bariatric surgeon at Marina Del Rey Hospital. "I'm proud of these patients and of how far our program has come, but it still feels like a brand-new experience with each new patient that walks through our door."
The Marina Del Rey Hospital bariatric team works with each patient to set their weight loss goal as part of the pre-op education process. The generally accepted benchmark of losing fifty percent of the patient's excess body weight is used as a starting point, but is then adjusted depending on the patient's starting weight, age, health conditions and personal goals.
The goal weight may even be adjusted over time to reflect the patient's evolving health, energy and personal outlook, but setting, and achieving, the patient's target weight is always a huge milestone. Although all patients are welcome to attend the Patient Celebration, this event is planned to honor those patients who have reached this milestone and maintained their goal weight.
"It's very rewarding for me to come to these events, to see the combined enthusiasm and accomplishment of so many successful patients," said Dr. Korman. "It's a validation of everything we do to try and help people to become healthier and happier."
About a hundred people will attend this year, organizers estimate. Bridgette Agee, the center's registered nurse, would like each patient who attends to e-mail a "before" photograph to bridgette.agee@marinahospital.com.
"I love this event," said Agee. "Our patients work so hard to achieve this goal, and to be recognized in front of the doctor, our team and their fellow patients really means a lot to them."
The hotel is at 13480 Maxella Ave., Marina Del Rey, CA 90292. The event will begin at 10 a.m. and run until 1 p.m. on Feb. 18. Parking is free. Space is limited, so attendees are requested to reply by phone, at (310) 577-5540.
About Marina Del Rey Hospital
Marina Del Rey Hospital in Los Angeles is a boutique surgical hospital focusing on bariatric, spine, orthopedic, and minimally invasive surgery. The multidisciplinary medical team at L.A. Bariatrics, the bariatric surgery program at Marina Del Rey Hospital, offers patients excellent care. As a Bariatric Surgery Center of Excellence, this weight loss center meets high standards for experience in bariatric procedures and inpatient care.
About L.A. Bariatrics & Dr. Jeremy Korman
Dr. Jeremy Korman is the medical director of L.A. Bariatrics and a leading expert in the field of bariatric medicine, and he has successfully performed over 1,000 weight loss surgical procedures on patients from all over the United States. Dr. Korman and his multidisciplinary team focus on helping patients to realize their weight loss goals and achieve better health. L.A. Bariatrics, located at Marina Del Rey Hospital, is certified by the American Society of Metabolic and Bariatric Surgery as a Bariatric Surgery Center of Excellence, confirming that its staff has extensive, specialized experience and that the facility has passed rigorous inspections. The L.A. Bariatrics team combines exceptional surgical outcomes with nutritional, psychosocial and exercise support for all patients within the program.
###