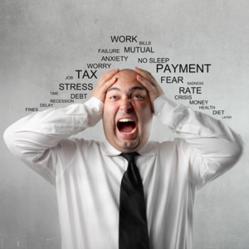 Any type of stress…leads to both behavioral changes such as less exercise, eating more comfort foods, drinking, smoking, and so on
Los Angeles, California (PRWEB) May 31, 2012
A common reason for weight gain, experts say, is from stress. The temporary relief of satisfying a craving for high-calorie foods leads to a vicious cycle.
The link between stress and overeating has long been established, said Nutritional Biochemist Shawn Talbott, author of "The Cortisol Connection." Talbott said the hormone cortisol leads to a craving for comfort foods during times of stress and triggers emotional eating.
Known as the "fight or flight" hormone, cortisol sets off a slew of other changes in the body, including increased energy and changes in metabolism.
"The excess cortisol exposure tells our brains that we're hungry, especially for sweets and carbohydrates, and tells our belly fat cells to store as much fat as possible," Talbott said. "Any type of stress… leads to both behavioral changes such as less exercise, eating more comfort foods, drinking, smoking, and so on and biochemical changes -- higher levels of stress hormones like cortisol, which can suppress the immune system, increase blood pressure and cholesterol, elevate appetite, increase fat gain."
The good news, Talbott said, is there are ways to combat how stress influences the desire to overeat. Some of his recommendations include identifying stressors and finding healthier ways to cope, such as avoiding social isolation. Being around other people is a way to lessen stress, Talbott advised.
A hobby outside of work, Talbott said, is a useful way to lessen everyday stress.Talbott recommends "looking on the bright side" in order to stay positive.
Weight loss expert and bariatric surgeon in Los Angeles, Dr. Shahram Salimitari recommends eating a balanced diet in order to keep blood sugar levels stable, especially during stressful times. This can help decrease cortisol and control appetite, Dr. Salimitari said.
"Sugary, simple carbohydrate foods spike insulin levels which can increase stress hormones and make you feel hungrier," said Dr. Salimitari. "But high-fiber and whole grain foods help keep insulin stable, which controls blood sugar and hunger levels."
Emotional eating can be curbed by simply being aware of the connection between stress and overindulging, said Dr. Michelle May, author of "Eat What You Love, Love What You Eat: How to Break Your Eat-Repent-Repeat Cycle."
"Whenever you feel like eating, pause to ask, 'am I hungry?' This deceptively simple question will help you notice the difference between physical hunger and 'head hunger,'" May said. "Consider ways to manage stress better than eating: take several deep, calming breaths, take a brief walk around your office, make a to-do list and focus on your top one to three priorities. "
During times of physical hunger, May suggests eating nutritious meals and avoiding carbohydrate-heavy meals. Following this health-conscious route helps ease stress and maintain a healthy diet, May said.