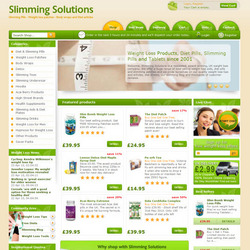 Our customers are more sophisticated than ever. They don't just want our great value and highly effective products. They want advice, and they want to learn how to help themselves
(PRWEB) April 28, 2010
Business owner Kerry Scott is excited about the launch of the new website, and feels a great sense of achievement to have been at the helm of a successful business for such a length of time.
"Although the previous website has done us proud, times change and we needed a new approach" admitted Scott. "Our customers are more sophisticated than ever. They don't just want our great value and highly effective products. They want advice, and they want to learn how to help themselves. There's a lot of information online already but we felt that a trusted name like Slimming Solutions was well placed to give clients information they could believe in."
If the hundreds of testimonials on the website from satisfied customers are anything to go by, then it would seem that Scott is right to believe that the company has built a strong reputation for reliability and trustworthiness, in a marketplace that over the years has seen more than its fair share of adverse publicity.
"I always planned to build a business for the long term, a business that my staff could feel proud to work for" said Scott, "and that's only achievable if you treat your customers well and sell products that meet their needs".
This service ethos is one of the main drivers behind the new website which, as well as including new products and valuable interactive health and fitness information, incorporates a wider range of delivery options including a "school run" service that guarantees to deliver between 9.30am and 2pm on a week day.
Scott hopes that the new website can be the foundation for the next 10 years of the business. "We can't wait to launch the new site, and show the world our new face. The site will continually evolve over the next few years but I'm positive our clients will welcome everything that we have done to help them" she enthused. "I plan to still be around in 2020, and celebrating even greater success!"
# # #