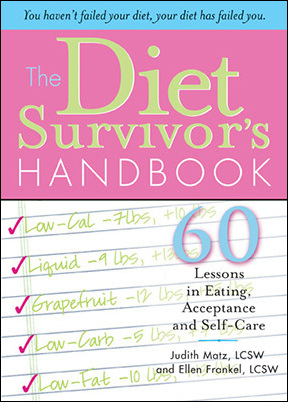 Learning to eat in response to your own internal cues instead of following someone else's diet rules is empowering. It's the only way to really make peace with food
Marblehead, MA (PRWEB) July 19, 2006
Judith Matz and Ellen Frankel, known as the Diet Survivor Sisters, are on a mission. They want everyone to know that not only do diets not work; they are actually hazardous to your health. Their most recent book, The Diet Survivor's Handbook: 60 Lessons in Eating, Acceptance and Self Care, claims, "You haven't failed your diet; your diet has failed you. Find out what you need to know before you start your next diet when the Diet Survivor Sisters join Veronica Cook-Euell to talk about their lessons in eating, acceptance and self-care on the Size Matters, Too radio show.
Both sisters, who are also psychotherapists, struggled with yo-yo dieting during their teens and early adulthood. Although Judith and Ellen are each under five feet tall and small in build, they say that they both felt pressure to lose weight. According to Frankel, "I wanted to be acceptable. I thought that being thinner would make me feel better about myself." In her quest to lose weight, this Diet Survivor Sister starved and binged, used diuretics, and became a compulsive exerciser, behaviors she now sees as extremely harmful.
The other Diet Survivor Sister, Judith, began dieting after a boyfriend's remark made her feel that she had to stay thin. "I would restrict foods high in fat like cookies and pizza, and sometimes I would skip meals. I felt virtuous when I was in control, but sooner or later I would binge." Judith says that as the result of her dieting and overeating, she began to gain weight, a common pattern among dieters.
Both sisters broke out of the diet/binge cycle by ending the deprivation of dieting and becoming attuned eaters; learning to eat when they were hungry and stop when full. They even loaded their kitchens with foods like ice cream and M&M's and found that the more they had, the less they needed to eat. "Learning to eat in response to your own internal cues instead of following someone else's diet rules is empowering. It's the only way to really make peace with food," explain the Diet Survivor Sisters.
The Diet Survivor's Handbook gives a step-by-step approach that can teach anyone who is frustrated by dieting – and gaining back the weight – how to completely change their eating habits. The key, say The Diet Survivor Sisters, is to realize that while every diet works in the short-run, the more you diet, the more weight you will gain over time. Instead, they want to help you to get off the diet rollercoaster now, and to live a healthier and happier life. To listen in to the show, tune in to http://www.sizematterstoo.com beginning Wednesday, July 19th through Wednesday July 26th online/on-demand 24/7.
To find out more about being a diet survivor, visit The Diet Survivor's website at http://www.dietsurvivors.com
Media Contact:
Libby Topel
Sourcebooks, Inc.
(630) 961-3900 ext 226
###