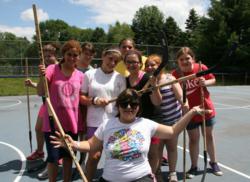 "At Camp Shane, the layers of shame every obese teen is wrapped in begin to peel away," says Camp Shane co-owner, David Ettenberg. "A slimmer, confident, and prouder young person soon emerges."
Ferndale, NY (PRWEB) January 31, 2013
Camp Shane campers recalled their hurtful experiences of having been victimized about their weight for a study for the journal Pediatrics that has now been published. 350 teens answered questions about having been bullied about their weight by their peers, and (surprising researchers) by the adults in their lives, including their parents.
It turned out that 42 percent of overweight teens were bullied or mocked by coaches and gym teachers and a full 37 percent reported receiving such treatment from their own parents.
Rebecca M. Puhl, director of research at Yale University's Rudd Center for Food Policy and Obesity and the study's lead author, said, "What we see most often from parents is teasing in the form of verbal comments."
Such teasing is not lighthearted. Children can be humiliated at the dinner table about the amount of food they are eating, shamed with comments about how fat they look in clothes or even made to feel inferior by parental manipulation such as bribing kids to stick to a diet.
"There still remains the widespread perception that a little stigma can be a good thing, that it might motivate weight loss," said Dr. Puhl, a clinical psychologist. But research done at Yale's facility shows that such comments do more harm than good. They can trigger a lifetime of eating disorders including anorexia, bulimia, binging and purging and distorted self-image.
"Most parents and other adults are well-intentioned, but don't know that what they are doing, in the guise of helping, is really hurting the children," says David Ettenberg, co-founder of Camp Shane, the longest running child and teen weight loss camp in the country. "The last thing the child needs is to be made to feel more insecure or have their already low self-esteem attacked. The kids know they are overweight and they feel badly enough about it without the adults, who should be there to help them, adding to their negative self-image."
Puhl recommends adults stick to some simple, yet respectful rules, when it comes to overweight children: Don't blame the child for their weight; don't engage in pointing out "ugly" body parts on anyone, thereby reducing people's worth to how they look; don't promise if the child loses weight, the bullying will stop (bullies will keep bullying about something); focus on health, not weight and don't treat the child as though they are flawed.
At Camp Shane fitness camp, counselors are given sensitivity training and have been taught how to gently coax from the campers deeply buried feelings of insecurity and low self-esteem and bring them to the surface. Bullying, jeering, or mocking are discouraged and exposed for the negative behaviors that they are. Campers are encouraged to share their feelings with other campers, many of whom have faced the same problems and challenges. Shy kids at the weight loss camp are coaxed carefully, and with great patience, and not rushed to reveal too much until they are ready. Positive reinforcement makes that time come all the sooner. Teamwork--and more importantly--team support is given for individual efforts, as well as efforts undertaken as a team (and everyone makes the team.)
Overweight teens often learn to make excuses for their obesity ("I am big-boned like my mother" or "My dad was fat when he was in high school.") These excuses are understandable, but not allowed to stand at Camp Shane. Rather they are brought out in the open so they can be dealt with. Once teenagers learn the nutrition, exercise, and healthy lifestyle choices they need to lose the weight (and keep it off), the excuses are no longer necessary and fade away.
"Soon the layers of shame and humiliation every obese teen is wrapped in begin to peel away too," says Ettenberg. "What stands in their place is a slimmer, confident, and prouder young person--one who has a plan to take the weight off, keep the weight off and live a healthy life--one in which they are in control. Their future looks much brighter."
About Camp Shane: Camp Shane, is the first-and-longest running co-ed weight loss camp in the country, With over 44 years of experience, Camp Shane has helped thousands of overweight children establish healthy diets and active lifestyles at its fitness camps in New York, Georgia, California and Arizona.
Camp Shane hosts campers ages 7 to 19 for their program, which includes a complete nutrition and weight loss program with entertaining exercises, delicious and healthy meals, resort activities like zip-lining, swimming, hiking, and dance classes, fitness experts, motivational speakers and more, all in a breathtaking Catskill Mountains setting. For more information, visit http://www.campshane.com.
Camp Shane's adult program, Shane Diet & Fitness Resort s, is focused on helping guests achieve a long term healthy lifestyle. The weight loss resort program runs at two locations, year round at the Westin La Cantera Hill Country Resort in San Antonio, Texas and summers at Honor's Haven Resort & Spa in the Catskill Mountains of New York State. The program was recently recognized by SpaFinder as the "Best for Weight" in the 2012 SpaFinder Wellness Readers' Choice Category.