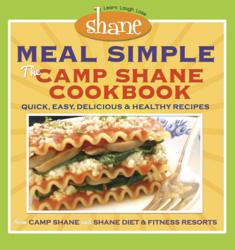 Full of low-fat, low-salt, low-sugar, low-calorie (but still absolutely yummy) dishes, Meal Simple recipes will help the whole family get in shape, deliciously."
Croton-On-Hudson, NY (PRWEB) January 31, 2013
Camp Shane weight loss camp has been helping kids (and young adults) learn to take control of their weight, their health and their lives, with laughter, positive reinforcement, lots of fun—and good food -- for 45 years.
Offering a summer program of weight loss and fitness, plenty of exercise in the fresh air of the Catskill Mountains setting (and now three other locations - Georgia, Arizona and California) along with activities that are actually fun, is part of the solution to weight loss. The other part of the puzzle is the delicious portion-controlled meals served at Camp Shane. Now, truly by popular demand, Camp Shane has published its first cookbook, Meal Simple.
Written by co-owner of Camp Shane and co-founder of Shane Diet & Fitness Resorts, Ziporah Janowski and by Julie Harrington, the New York Resort's nutritionist, Meal Simple is jam-packed with easy-to-prepare and family-friendly meals, chock full of healthy nutrition and taste, yet low on unhealthy fats and calories.
"Kids won't eat what they don't like and if you want to turn their attention from chips and candy, you better provide truly tasty alternatives," says Janowski. "Here at Camp Shane, we have developed a menu of choices that have proven very popular, not only with the kids, but with their parents and our guests at our adult weight loss programs. Full of low-fat, low-salt, low-sugar, low-calorie (but still absolutely yummy) dishes, Meal Simple recipes will help the whole family get in shape, deliciously."
From Baked Apple French Toast and Blueberry Pancakes for breakfast and Philly Cheesesteak and Grilled Chicken Pitas for lunch, to dinner entrees like Black Bean Burritos and Eggplant Parmesan, Meal Simple uses ingredients already in your pantry (and ones that won't break the bank—calorie or wallet-wise.) Snack on Guilt-Free Guacamole, Pumped Up Popcorn or the incredibly delicious and surprising Dessert Hummus. Or dip into some sinful Lemon Garlic Hummus but be sure to save room for decadent (yet healthy) desserts like Brownies, Chocolate Mousse and even Cheesecake. Check out Julie demonstrate one of our favorite recipes - fruit and nut bites.
Joy Bauer, Health and Nutrition expert for NBC's TODAY show says, "With this delightful cookbook, now families everywhere can take advantage of Camp Shane's recipe for success . . . literally! These easy, tasty dishes will help kids (and adults) grow fit and strong—and develop a taste for fresh, healthy fare."
Janowski says, "At our four camps locations for kids and young adults (New York, Georgia, Arizona and California), we combine great food with fun fitness activities like swimming, dancing and kayaking, and teach the campers about nutrition at Camp Shane, so they can lose the weight and keep it off when they return home. And at our adult Texas year round New York summer weight loss programs, these recipes are extremely popular and our guests have been clamoring for this cookbook for months! We know our Meal Simple cookbook will be a wonderful resource for kids and adults to achieve their healthy living goals."
The cookbook also tells the inside story of how Camp Shane and Shane Diet & Fitness Resorts were launched, including the answer to the perennial question asked at Shane: "Where does the name Shane come from?"
For more information on Camp Shane's and Shane Diet & Fitness Resorts' programs visit http://www.campshane.com. To purchase a printed copy of Meal Simple ($24.95,) visit Amazon at: http://bit.ly/CampShaneCookbook. Meal Simple (The Camp Shane Cookbook) will also be available for purchase on our website and at each of our programs and will soon be available for Kindle at Amazon.com.
Copies are available for review by contacting Ziporah Janowski at [email protected]
About Camp Shane: Camp Shane, is the first-and-longest running co-ed weight loss camp in the country, With over 44 years of experience, Camp Shane has helped thousands of overweight children establish healthy diets and active lifestyles at its fitness camps in New York, Georgia, California and Arizona.
Camp Shane's adult program, Shane Diet & Fitness Resorts, is focused on helping guests achieve a long term healthy lifestyle. The weight loss resort program runs at two locations, year round at the Westin La Cantera Hill Country Resort in San Antonio, Texas and summers at Honor's Haven Resort & Spa in the Catskill Mountains of New York State. The program was recently recognized by SpaFinder as the "Best for Weight" in the 2012 SpaFinder Wellness Readers' Choice Category.