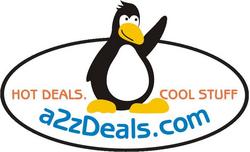 Sacramento, CA (PRWEB) January 9, 2008
a2zDeals, the popular Hot Deals & Coupons site announced the hot spot for fulfilling all resolutions for the New Year: http://www.a2zDeals.com. Click, shop, and save to keep pace with efforts to save money, lose weight, get fit, increase quality time with loved ones, learn something new, help the environment and help others.
Save Money
Save gas money and up to 75% off the products by staying home and browsing a2zDeals' new online shopping categories (ex: Free Shipping Coupons) and easy-to-use coupon codes. Free coupons include: Clothing Coupons (kids, men, women, plus size), Shoes, Electronics & Camera, [Car/SUV/Truck tires & Discount Auto Parts Coupons, Groceries, Computers, Department stores, Valentines Day Gifts and more. Find 75 percent off clothing, $25 off Quicken 2008 & Turbo Tax Coupons, Free camera phones from Cingular/AT&T, $300 off desktop and laptop computers, 60 percent off textbooks, Amazon.com free shipping and many more.
From Amazon to Zappos, a2zDeals finds and lists the latest and validated coupons and deals from over 400 retailers; view all the deals and coupons for favorite online store with a single click of the mouse.
Said a2zDeals Marketing Manager Monica Merrill, "Resolution #1: Never pay full price. Always know what to put in that ubiquitous 'insert promo code here' box on check out screens. Start shopping trips at a2zDeals to find coupon codes for over 400 major retailers. One little click translates into big savings."
Lose weight, Exercise More
Still trying to lose weight in 2008? Try to move more, eat better, and drink 8 glasses of water daily. Invest in proper exercise equipment and weight loss items found at a2zDeals. Now get $300-$1000 off instantly on home gym systems, treadmills, ellipticals and other fitness/exercise equipment from major brand names by buying them directly from the manufacturer factories. Most offer free shipping, and monthly payment plans. Supplement exercise with diet: Get 2 weeks of free diet food from major diet programs with a2zDeals weight loss & diet plans coupons. Remember: always consult with a physician before starting any weight loss routine.
More Time with Friends & Family
Spend more quality time with family and friends in 2008, because at a2zDeals, the shopping can get done anytime of day or night. Purchase no-cost and low-cost phones from Cingular/AT&T and other carriers through a2zDeals and stay connected to loved ones. As Valentines Day approaches, imagine how much time and money will be saved by shopping online and using a2zDeals free shipping and $$ off offers for Valentines Day Gifts, Cards & Flowers Coupons. No trips to the store or post-office required.
Learn Something New
Take a trip to new places: Get Discount vacation packages, free hotel nights, free upgrades, and other travel bargains to Las Vegas, Disneyland and Disneyworld, Mexico & Caribbean, and other popular destinations. Enjoy discounts on airfare, hotel nights, car rentals and cruise while learning something new.
Stay better informed by subscribing to popular magazines at 85% off and local newspaper subscriptions at 50% off.
Help the Environment
Feel good about helping the planet by avoiding that drive to the mall - shop online instead.
Help Others
Help friends save money this year by sending them to a2zDeals for free no-risk online shopping coupon codes and promo codes.
This promotional code/free coupon site is unique: there are no membership fees, and no registration required. The site is safe, secure, and does not collect personal information. The newly upgraded coupon site was recently featured by "Save With Dave", airing on CBS affiliate KOVR, Sacramento.
Imagine: in 2008 there is one site to bookmark and visit for all these resolutions:
Save money.
Lose weight.
Get fit.
Increase quality time with loved ones.
Learn something new.
Help the environment.
Help others.
a2zDeals is privately held, and has a strong following from smart shoppers for over 10 years.
###