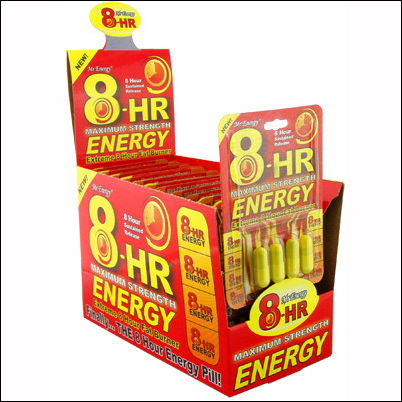 It is also 8 hours of fat burning power. It is effective at burning fat by raising the body's temperature, increasing its metabolism and quashing an over active appetite.
Boca Raton, FL (PRWEB) December 13, 2006
Bhelliom Enterprises, an innovative leader and quality manufacturer in the nutraceuticals industry, has introduced an exciting new product in energy-boosting supplements.
Mr. Energy, 8-Hr Energy, available at convenience stores and gas stations nationwide January 2007, is expected to revolutionize the way Americans view natural energy supplementation. This easy-to-swallow capsule uses a next-generation delivery system that releases a steady, powerful flow of refreshing energy that keeps working throughout the day.
The product duplicates, as closely as possible, the results of the Harvard-based study, according to Casey McCarthy, CEO of Florida-based Bhelliom Enterprises, the manufacturer of the product. Funded by the U.S. Air Force Office of Scientific Researches, the study clearly demonstrates that low levels of caffeine, consumed every hour throughout the day are more effective at providing usable, long-lasting energy than one large serving.
Rush University Medical Center, Brigham, Women's Hospital and Harvard Medical School, conducted research which reveals that the method most Americans use - consuming large amounts of caffeine early in the morning -- for day long alertness and productivity is ineffective.
The research examined two groups of participants. In the first group, the individuals were given the equivalent of one ounce of caffeine every hour. The second group was given the same amount of caffeine, but in a single serving. Those given the hourly servings of caffeine maintained a level of energy and alertness that was fairly constant throughout the day.
These results have huge implications for the American public, who are conditioned to consume large servings of caffeine at a single sitting. While the short term benefits of these large servings are great, the accompanying drop in energy several hours later can leave the consumer even more tired and fatigued than when he began his day.
The growing energy market - reaching nearly $1 billion in sales this year - indicates that many Americans need for a safe, natural source of extra energy, McCarthy noted. Originally a market that targeted the 21 to 35-year-olds, the demographics have expanded to an ever widening group of people. They include not just athletes and students, but long distance drivers, those who work night shift, taxi drivers and even office workers who find their appointment books as well as their responsibility level overloaded. Busy working moms of any age group are also discovering that to fit all their activities into one day, they sometimes require extra energy.
This, combined with the recent withdrawal of ephedra-based products from the market, poises Mr. Energy, 8-Hr Energy, to be an indispensable tool for millions of Americans.
This is the first product to provide the consumer with energy for 8 hours and certainly the first in a capsule form. Currently there are two energy drinks, Chaser 5Hr Energy and Stacker 2 Yellow Jacket 6 Hr Power that advertise they can provide for 5 or 6 hours of energy. While successful, the taste of the drink and the inconvenience of the packaging make this a less than ideal choice for many individuals. However, this easy-to-swallow capsule avoids the harsh taste of energy drinks. It also provides the added benefit that the consumer can conveniently carry it with him wherever he goes.
"Mr. Energy is not just a breakthrough time-released energy pill," McCarthy explains. "It is also 8 hours of fat burning power. It is effective at burning fat by raising the body's temperature, increasing its metabolism and quashing an over active appetite." With an increase in metabolism, it is easier to lose weight. Consumers may find that this supplement gives their bodies a "jump start" in starting any healthy weight loss program.
McCarthy also noted that Mr. Energy's extraordinary effectiveness is derived from Bhelliom's trademark natural complex, XtenrG.
Suggested retail pricing for Mr. Energy is $1.99 per 4ct blister pack or $39.99 for a 100ct 30-day supply.
Samples are currently available for distributors and media outlets for review.
Further information on this product is available at http://www.8-hr.com.
For press inquiries contact:
Casey McCarthy, CEO
Bhelliom Enterprises Corp.
1181 S. Rogers Circle Suite 26
Boca Raton, FL 33487
Phone: 888-277-8169
###