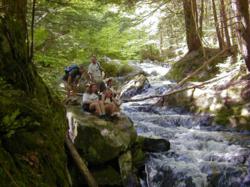 Killington, Vermont (PRWEB) December 31, 2012
Studies show that a destination spa vacation can reduce stress and increase overall health, including weight loss. According to a study Conducted & Prepared Mary H. Tabacchi, Ph.D., R.D. & The Survey Research Institute at Cornell University for the Destination Spa Group, "Destination spa stays appear to increase physical fitness levels, agility, enhance cardiovascular fitness, body image, train one to exercise enthusiastically, to feel more fit than others their age and to increase endurance."
New Life Hiking Spa has been a member of the Destination Spa Group for over a decade and was recently selected by SpaFinder Wellness as one of the 25 pioneer spas in the industry.
"We have been helping people meet their health and fitness goals in our gorgeous Vermont setting for 35 years. We have a solid organization at a great value. From our pristine guided hikes, to world-class spa cuisine, to excellent spa services and yoga and fitness classes, New Life gives people just that…a new lease on life, " stated Jimmy LeSage. He went on to say, "People who make resolutions to get healthier in the New Year often lose their momentum on vacation. At New Life Hiking Spa, guests enjoy an affordable, all inclusive hiking spa vacation where they will actually go home healthier and energized to carry on their health and fitness."
Often referred to as one of the most affordable destination spas in North America, New Life Hiking Spa's regular prices range from $229 - $259 per night. Price includes a room, three healthy meals per day, fresh fruit and vegetables as snacks, one guided hike every day (three levels offered per day to accommodate everyone's fitness needs), all fitness and yoga classes, one massage for every three night stay and evening lectures and cooking demos.
A special rate of $350 off the total price of an eleven night weight loss retreat or $25 per night off any length of stay is being offered for all those wanting a healthy vacation to be part of a weight loss resolution. All reservations must be booked by February 9, 2013. Dates and restrictions can be found on the spa's website or by calling 802-353-2954.
About New Life Hiking Spa:
New Life Hiking Spa is a destination spa in Killington, Vermont celebrating 35 years in business. Founded in 1978, by
Jimmy LeSage, M.S., New Life is an award-winning weight loss and hiking spa vacation.
New Life Hiking Spa is open from mid-May through the end of September. Approximately 600 guests from all over the world come to visit New Life in the Green Mountains of Vermont.
New Life is consistently picked as one of the top ten spas in the world by SpaFinder Wellness Readers Choice Awards for hiking, outdoor adventure, solo travel, weight loss, affordability and fitness classes. In addition, founder and director Jimmy LeSage, M.S., was chosen as one of the world's top ten best spa managers in 2011.
New Life Hiking Spa was chosen in Yankee Magazine as the 2012 Editor's Choice for "Best Place to Rejuvenate" and has been listed as New England's top spa by Spas of America for the past two years.
More information can be found online at http://www.NewLifeHikingSpa.com or http://www.WeightLossSpa.com.