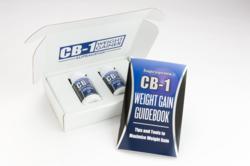 This Guidebook is a tremendous amenity to be included with each order of CB-1!
Orem, Utah (PRWEB) May 15, 2012
Supragenix will begin to send out their new full color Weight Gain Guidebooks today with all orders of CB-1 Weight Gainer. This 24 page Guidebook will help CB-1 users better understand how to take the weight gain pills as well as teach useful weight gain tips; including information covering calories, exercise, nutrition and CB-1 Weight Gainer reviews.
"This Guidebook is a tremendous amenity to be included with each order of CB-1. So much is misunderstood in the weight gain market and we hope that our new Guidebook will help our customers better understand the basics of weight gain and help them optimize their results while taking the CB-1 Weight Gainer pills," says Travis Alvord, the CEO and founder of Supragenix.
Previous to using this Weight Gain Guidebook, CB-1 Weight Gainer included a two page Nutritional Guide in every order of the weight gain pills. That brief guide gave 11 basic tips and tricks to optimize weight gain results. This information is now included on pages three and four in the new guidebook.
The remaining 22 pages of the Weight Gain Guidebook include what the company says is "everything a customer will need to know to successfully gain weight fast." It explains calories, supplements, diet choices and exercise regimens. This full color booklet also provides a Tools and Worksheets section, a Recommended Daily Schedule, a Roadmap to Success and various before and after pictures of successful CB-1 Weight Gainer users.
The new Weight Gain Guidebook took a couple months to create as the founder of CB-1 Weight Gainer worked in correlation with graphic artists and researchers to make the guidebook a comprehensive and valuable asset to customers who use CB-1 Weight Gainer.
About Supragenix:
Supragenix was founded in 2010 and has helped thousands of users reach and maintain their goal weight through their weight gain pill called CB-1 Weight Gainer. It is an is an all-natural weight gain supplement designed to increase appetite and slow down the metabolism so users can get the extra calories they need to gain weight fast.