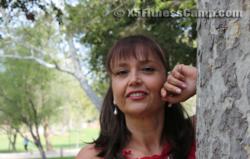 The image in your heart manifests in your life and in your body.
Poway, CA (PRWEB) April 02, 2012
"Weight-loss plans fail because they miss the value of passion," according to Vishy Dadsetan, owner of X5 Fitness Camp near San Diego, California. Dadsetan says, "We act with our hearts not our minds. Most diet and exercise plans fail because they are based on a set of mental rules and guidelines, which disregard imagination and passion."
Statistically, despite the changes in diets and exercise plans, two in every three adults remain either obese or overweight.
X5 Fitness Camp program is designed to create a fundamental paradigm shift for those who have struggled with weight loss for a long time. Its process begins with an expansion of individuals' awareness in regard to their own intrinsic values. Through this process, individuals learn to rediscover their inner fire underneath many layers of negative self-talk, false beliefs and inaccurate information.
"I have not only improved my physical appearance, but the x5fitnesscamp program has made a measurable impact on my overall health. It addresses the whole individual: the physical, mental, emotional and spiritual you. Once I made the connection to change from the inside out, I began to feel and see dramatic results. I am a different person now. This unique approach is what separates this camp from other fitness places," says Martha Perez one of X5 Fitness Camp clients.
For more information on the Burn The Fat With Your Inner Fire, please contact Vishy Dadsetan by email at vishy(at)x5fitnesscamp(dot)com or toll-free at (877) 348-6873. Limited spots are available and all applicants will be considered on a first-come, first-serve basis. For a free one-week trial visit http://x5fitnesscamp.com.
About X5 Fitness Camp
Vishy Dadsetan founded X5 Fitness Camp in 2010 to condense over 30 years of spiritual, mental, emotional and physical experience into a step-by-step holistic & effective weight loss process.
Burn The Fat With Your Inner Fire teaches how to express entheos, spirit within, the root of the word enthusiasm so that we can be self-sustaining without the need of external motivations.