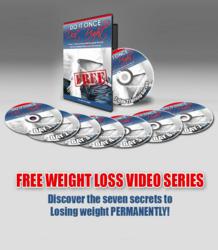 When I was in the force, eating right and exercising well happened automatically. But as a busy mother of three, healthy food for myself was a last priority
Brisbane, Queensland (PRWEB) January 31, 2013
Diet guru unveils her permanent weight loss secret, eschews fad diets for health.
Leisa St Ledger, former police officer turned weight loss expert and the driving force behind the highly popular range of Leisa's Secret weight loss pills, has for the first time revealed her closely guarded weight loss formula, aptly called 'Do It Once - Diet Right', in this revealing and best of all free video weight loss eCourse available at LeisasSecret.com. By revealing how exactly her secret formula works when combined with clever food choices and the latest exercise techniques that can strip that excess weight three times faster than regular exercise, this 7-day video eCourse could be the resource for busy, overweight people who want to lose weight easily and permanently.
"When I was in the force, eating right and exercising well happened automatically. But as a busy mother of three, healthy food for myself was a last priority," Leisa states when asked to explain how Leisa's Secret came about. "Post pregnancy, I tried to lose weight many times and I soon found that you CANNOT lose weight effectively by starving yourself. You need to eat wisely if you desire permanent weight loss. I wanted a premium, quality-assured product and weight loss program that would help me lose weight the healthy way. So I teamed up with Australia's best food technologists, dietitians and a leading team of pharmaceutical specialists and developed a unique weight loss formula."
Leisa's all-natural meal replacement product works by replacing one or two meals a day. Most people on diets suffer from strong cravings and feel irritated, tired or depressed because their body does not get sufficient nutrients when they are on a restrictive diet. Leisa's secret supplies fewer calories but the same amount of vital nutrients to the body so it has the capacity to fulfill all its normal functions while fat reserves are continuously eroded.
"One of the things I wanted to do with the product was to make it convenient and tempting for people to use, so it would beat their cravings," Leisa continues.
"You can use it to lose weight, get into shape, stay fit -- the possibilities are endless. But at the end of the day, I wanted it to be a balanced and satisfying meal in itself. So, if you missed breakfast or wanted a mid-morning snack or a mid-afternoon energy boost, you could just fix yourself a great tasting drink that makes you feel satiated and is all the more beneficial because it is natural and low on calories. When using in conjunction with the new Do It Once - Diet Right Video series, this really helps people lose weight and keep it off."
Obesity expert Dr. Douglas Nicholson who runs an obesity clinic in Australia obviously agrees because he has been recommending Leisa's Secret to his patients for years. "I've got some very successful patients as a legacy of Leisa's Secret," he says. If media reports and live testimonials on her website are anything to go by, her product and free video series that shows you how to lose weight fast, is obviously delivering the goods. The list of successful weight losers includes prominent names like that of former Australian wrestler Kevin Rogers.
Already a huge success in Australia, Leisa's Secret has followers in the UK, Ireland and Eastern Europe, as well as the US, China, Korea and most of the Middle East. Mrs St. Ledger says that she tailored the free video eCourse to satisfy the growing demand for a step-by-step guide to her weight loss strategy. "People using my product were losing weight, but many did not know how to maximize its effectiveness to achieve permanent weight loss. The secret is to use Leisa's Secret, eat healthy and do some basic, yet very clever exercise techniques, all of which are demonstrated in the free video series. The focus of the Do It Once - Diet Right Video Series is to teach people exactly how to put my weight loss principles into practice. There is no catch; we just want to help overweight people win and reduce the rapidly rising obesity epidemic -- globally."
With immense interest growing in the area of natural, long term weight loss, Leisassecret.com is one of the few programs that relies on completely natural products and healthy practices to lose weight. It also aims at permanent, life-long weight loss, something that is missing in the field of fitness and health, where we are constantly being bombarded and exposed to an ever-growing plethora of new fad diets and weight loss gimmicks. That alone should ensure its success.
To access Leisa's FREE video series click on the following link: weight loss diet
For interviews with Leisa St Ledger contact: +61-7-38200-4222
Or you can subscribe to Leisa's RSS feed at: http://leisassecret.com
# # #