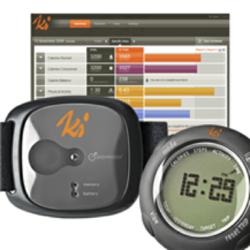 No more guessing, just accurate information about how your body behaves and how your lifestyle affects it.
London (PRWEB UK) 17 May 2011
The team of scientists working at Ki's London laboratory is, for the first time, revealing the truth behind the mystery of how to lose weight. Their studies and results are dramatic enough to change the weight loss industry for good, and it is all based on a very simple equation between calories burnt and calories consumed.
Anna Holder, director of Science at Ki explains, "We have been focusing on the government's recommended calorie intake for men and women, and also exploring how diets like weight watchers and slimming world only apply average calorie requirements based on just weight, age and height. What we have discovered is that people's metabolisms vary enormously, no body is just average, and the problem with these diets is they only look at one side of the equation, that is the intake side."
The team at Ki has been using the Ki Armband to track individual calorie burn 24/7 and have identified some interesting results. By tracking people's metabolism and lifestyles, Ki were able to identify that very simple changes in general activity levels were far more effective at driving weight loss than any punishing gym regimes or exhausting exercise routines. In fact, in some cases excessive exercise led to increased hunger and calorie consumption.
The results prove that the government's campaign of "eat less and move more" was definitely the right proposition; but without accurate information on how your body is performing, it is impossible to make this work effectively. The Ki Armband is scientifically proven to provide accurate data on the body's metabolism. Ki also have further evidence that brings into question the average calorie recommendations that the government is proposing.
Martin Lowde, marketing director at Ki explains, "The Ki technology allows individuals to understand their body's better. Rather than just guessing how many calories you need, you can accurately see what your body is burning in real time. This is perfect for people trying to lose weight, but is also showing to be incredibly helpful for people at risk of, or suffering with lifestyle conditions such as Chronic Fatigue, and Diabetes."
To find out more about how Ki can help deliver 3 times better weight loss results go to http://www.kiperformance.com
###