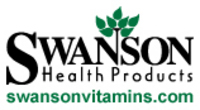 Fargo, ND (PRWEB) January 8, 2009
As the New Year rings in, many people look to the future and resolve to change something in their lives. The number one resolution is to get healthy and lose weight; not surprisingly over 65% of Americans are considered overweight. Experts say that losing just 5-10% of your current body weight can reduce the risk of some serious health problems.
Swanson Vitamins offers products that combined with eating right and exercising regularly can help boost weight loss results. Depending on dieting needs, Swanson Vitamins has products ranging from carb blockers to appetite control and everything in between.
100% Pure Starch Neutralizer, a natural kidney bean extract, helps to block carbohydrates. Similar to Phase 2 capsules but more convenient-- simply shake the neutral-tasting sprinkles on food that are high in starch calories. Phase 2 blocks the amylase enzyme so some of the carbohydrates in the foods consumed pass out of the system without being assimilated.
For a natural appetite control product, Swanson Advanced Weight Loss Nutrition Opti-Whey helps block hunger throughout the day. Add it to milk or use this smoothie recipe to enjoy for breakfast. Blend together 1 scoop of Opti-Whey with 1 Tablespoon of coconut oil (for energy), 1 small banana, 3-4 strawberries, and 6-8 ounces of orange juice.
The Thermogenic Complex combines green tea extract with caffeine and Chromax® chromium to help burn fat and build lean muscle. Take one capsule twice a day with a sensible diet and exercise regimen and Thermogenic Complex will provide the support to help burn fat and build lean muscle.
Swanson Ultra 30 Days Diet Formula is a new way to look at weight loss. It's based on Dr. Roald Strand's philosophy that a significant contributing factor to weight gain may be located in the gut. This unique formula provides select herbs that have a cleansing and strengthening effect on the digestive organs in the body and stimulates the body's ability to rid itself of harmful waste products.
Swanson Vitamins is an industry leader in bringing vitamins direct to consumers at the lowest price possible. Swanson Vitamins, located in Fargo, ND, offers the highest quality vitamins, supplements and natural health care products and is GMP certified. Swanson Vitamins goes a step beyond its competitors by offering powerful guarantees. All products are backed by a 100% Satisfaction, Money-Back Guarantee and Double the Difference Lowest Price Guarantee. For more information, please visit Swanson Vitamins.
###