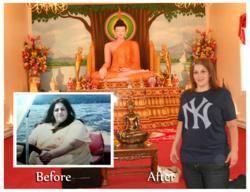 ...it takes consistency, commitment, focus and a great support system. It is worth the hard work and the reward is your life!
(PRWEB) September 18, 2012
HungerShield cofounder and nutritionist Elizabeth DeRobertis, MS, RD, CDE gets just as much inspiration from her patients as they get from her. In her practice of 14 years, she has worked with countless individuals who have changed their lives, their health, and how they feel about themselves. One of her proudest achievements is supporting Christine Naughton as she lost 155 pounds! "Christine is a beautiful person," says DeRobertis. "She has been one of the most dedicated people I have worked with in all my years in practice, and she has transformed her life, and has been an inspiration to all those around her."
How did she do it? "I lost my weight with willpower, determination, and the guidance of my mentor and nutritionist Elizabeth DeRobertis," says Naughton, 42. "She saved my life. Once I made the commitment, I followed without wavering."
Christine's commitment to change her life came from both internal and external motivation. "I had an internal unhappiness that was so deep, along with a lack of self-confidence and self-love," says Naughton. "I couldn't shop at any clothing store I wanted, and I picked up on looks and comments from others."
Christine started on her own and was able to keep off her first 60 pounds for a year and a half. Her sister then shared a flyer for a 10-week weight loss program with DeRobertis and she joined. The program stressed accountability (showing up), food journaling, exercising, and also offered a gift card incentive to the "Biggest Loser," which Christine was proud to win! She credits her hard work, along with the support of DeRobertis, and the numerous tools and tactics she was given along the way.
Christine's Tips for Weight Loss Success:
1. Be prepared.
"Always have a healthy snack with you, so you don't eat something you'll regret," says Naughton. "Mine is a red Delicious Apple!" Christine stresses that she plans ahead by writing her meals and snacks out the night before each day.
2. Have a strategy for all situations.
"If you are going to a wedding event or party and you aren't sure what's on the menu, eat something that can fill you up a little, such as a low calorie Greek yogurt, so you don't overeat," says Naughton. "When you get there, scan the room for the lowest calorie foods and fill your plate with those." In most situations, doubling up on fruits and vegetables before adding your protein or carbs is a great strategy.
3. Watch what you drink!
Christine focused on drinking more water and removing calories from other beverages. She also uses HungerShield to support her goals and control appetite. "I drink it between 3-5pm so I can stay satisfied for dinner and avoid extra snacks at that time," says Naughton. "It also hydrates me with a boost of energy before a workout." Christine enjoys HungerShield added to at least 16 oz of water, with a squirt of lemon and a packet of Splenda.
4. Build accountability and awareness.
"Food journaling keeps me accountable," says Naughton. "It takes one minute of your day, but it is worth your life - so find the time! I use a simple composition notebook I call my bible!" Journaling emotions also helped Christine. She always kept track of how her day went and how she was feeling.
5. Use your internal GPS system.
"I learned to get back on track immediately if I ate something I didn't plan," says Naughton. DeRobertis stresses the importance of a 'GPS' approach with her patients. "When you make a wrong turn in your car, the GPS does not say, 'you messed up, now drive off a cliff.' Instead, it recalculates your route and gets you back on track immediately," says DeRobertis. "This principle is key to assure you don't judge yourself too harshly or fall too far off track after one 'splurge.'"
Bottom line, Christine emphasizes to all interested in following in her footsteps, "it takes consistency, commitment, focus and a great support system. It is worth the hard work and the reward is your life!"
About HungerShield
HungerShield is an innovative appetite control drink mix created by four registered dietitians, Elizabeth DeRobertis MS, RD, CDN, CDE, Heather Zeitz RD, CDN, Elizabeth Pecoraro MS, RD, CDN and Dafna Chazin MS, RD, CDN. HungerShield is the only product currently on the market that contains natural ingredients, has high quality sources of fiber and protein as well as probiotics that promote digestive health. It is also the only product in this category that was created by healthcare professionals and can work with any diet plan on the market. For more information, visit http://www.hungershield.com. You can follow HungerShield on Twitter @HungerShield and on Facebook.