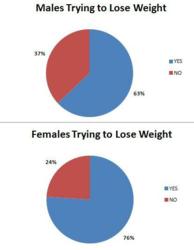 70 percent of online Americans have tried to lose weight. Not surprisingly, women are significantly more likely to say they have tried to lose weight than men
Atlanta, GA (PRWEB) May 16, 2012
Polaris Marketing Research Inc. announced today findings from their most recent survey of 1,228 online Americans, supported by Research Now for data collection and analysis. Confirming media coverage and our widespread suspicions, in the past three years, 70 percent of online Americans have tried to lose weight. Not surprisingly, women are significantly more likely to say they have tried to lose weight than men (76 percent for women and 63 percent for men).
"And perhaps even less surprising, these efforts have not been widely successful. Only 6% of online Americans report having successfully lost their extra weight and kept it off. On the other end of the spectrum, 14 percent of respondents report they have not been successful at all in losing weight," said Polaris Marketing Research President Jan Carlson.
Eating less (83 percent) and exercising more (8 percent) are the most commonly used approaches to weight loss. Eating special combinations of foods (24 percent) and pre-packaged meals (17 percent) are also popular. Only 3 percent of online Americans have seriously considered or have actually had weight reduction surgery.
Unfortunately, our lifestyles put many obstacles in our path to achieving and maintaining a healthy weight. "While lack of exercise (56 percent) and not wanting to give up our favorite foods (46 percent) top the list, stress (34 percent), eating bigger portions (31 percent), eating out (29 percent), eating too fast and eating on the run (both 20 percent) all play a role in our challenge to lose weight," reported Carlson.
About Polaris Marketing Research
Founded by Jan Carlson, Polaris Marketing Research is a full-service firm that provides state-of-the-art online interactive marketing research reporting, interviewing and data collection, quantitative and qualitative research expertise and personalized project management.
Atlanta-based Polaris Marketing Research is affiliated with the Council of American Survey Research Organizations, the American Marketing Association and the American Society for Quality.
About Research Now
Research Now is the leading global online sampling and online data collection company. With over 6 million panelists in 38 countries worldwide, Research Now enables companies to listen to and interact with real consumers and business decision makers in order to make key business decisions. Research Now offers a full suite of data collection services, including social media sampling, and operates the Valued Opinions™ Panel and e-Rewards® Opinion Panels. The company has a multilingual staff located in 24 offices around the globe and has been recognized for four consecutive years as the industry leader in client satisfaction. Visit http://www.researchnow.com to learn more.