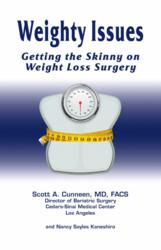 It's a huge, lifelong commitment as well as a complete change of lifestyle with regard to one's relationship with food, a very powerful relationship for most of us.
Los Angeles, CA (PRWEB) January 30, 2012
Doctors call them "co-morbidities." They might have picked a less scary word to signify the presence of one or more diseases in addition to a primary disease or disorder. But now, with two-thirds of this nation falling into the category of overweight to morbidly obese, those co-morbidities have reached epidemic proportions, evidenced by the rampant incidence of diabetes, hypertension and heart disease. And each year, for about 200,000 of those who fall into this category, weight loss surgery is the answer.
"It not just a matter of wanting to squeeze into those favorite jeans," according to Dr. Scott Cunneen, director of bariatric surgery at Cedars-Sinai Medical Center in Los Angeles and author of WEIGHTY ISSUES: Getting the Skinny on Weight Loss Surgery. "For many people, it's a matter of life and death," he said, adding that weight loss surgery is now seen in many medical circles as the most durable treatment for weight-related health issues associated with obesity.
Dr. Cunneen is passionate about getting the information out there to people who are at the end of their ropes – those who have tried everything and failed. "Surgery is not the easy way out," he explains, "nor should it be taken lightly," he says of the gastric bypass, gastric band and sleeve gastrectomy operations he performs every week. "Each of these operations represents major surgery, with some procedures more risky than others," he continues. "And it's up to patients and their primary physicians to determine whether or not the risk of unchecked obesity is greater than the risk of surgery, which routinely results in the resolution of several illnesses caused or exacerbated by being overweight," he says.
In WEIGHTY ISSUES, Dr. Cunneen gives readers something all too rare in healthcare these days – a surgeon's undivided attention -- taking the time to answer the most common questions people ask about all the weight loss surgeries offered today. He not only describes each procedure, he is adamant about the responsibility of the patient to comply with the changes required to make these operations work. "It's a huge, lifelong commitment as well as a complete change of lifestyle with regard to one's relationship with food, a very powerful relationship for most of us," he says. The book itself is very user-friendly, starting off with a discussion of surgical options in a section called "Generally Speaking." Sections that follow are "Nuts & Bolts" and "Life Changes," for everyone still in the decision-making process, plus a chapter on lap band and one on gastric by-pass and the sleeve. Also featured is a section entitled "Girl Talk" which gives us the perspective of a female bariatric surgeon, Dr. Mona Misra.
Using a conversational style and language we can all understand, Dr. Cunneen enables readers to feel as if they're sitting in his office, able to relax and ask him anything. He'd like to think these "conversations" with the readers, used as a springboard for discussions with their own physicians, may just lay the groundwork for making a decision that could not only change their lives, but save it. Good thing he likes to talk. And listen.
WEIGHTY ISSUES: Getting the Skinny on Weight Loss Surgery
Scott A. Cunneen, MD, FACS and Nancy Sayles Kaneshiro
Pub Date: January 1, 2012
ISBN 978-1-61061-523-5
http://www.weightyissuesbook.com
Available through your local bookseller or amazon.com and barnes&noble.com
###
###