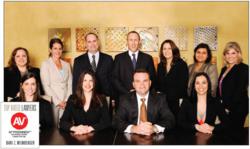 My idea is to pay as much attention to our clients' emotional needs as we do fighting for their legal and financial interests.
Parsippany, New Jersey (PRWEB) July 13, 2012
As details continue to emerge from the Katie Holmes-Tom Cruise divorce, it's clear that the spiritual upbringing of the couple's only child, Suri, played a central role in the pair's split. "Thrilled" by the terms of the divorce settlement reached after a speedy 11 days, Holmes is credited with carrying out a brilliant strategy to reach her goal of greater control over her daughter's religious exposure.
With such a strong focus on faith, divorce lawyers for Holmes and Cruise were called upon to help the celebrity couple grapple with a number of emotionally and spiritually complex issues. According to Bari Weinberger, founding partner of Weinberger Law Group, a New Jersey divorce law firm, this isn't unusual; for many couples, sorting through matters of faith or dealing with emotional baggage is a primary concern in the divorce, right up there with support and custody issues.
Rather than sweep these emotional issues aside as something that can addressed in a different venue, Weinberger, likes Holmes' legal team, faces them head on. "My idea is to pay as much attention to our clients' emotional needs as we do fighting for their legal and financial interests. This approach has proven to help our clients move on to the next chapter of their lives with greater ease," the Parsippany, NJ-based Weinberger explains.
Not all divorce attorneys are so in tune with their clients' needs. However, as a judge's clerk in the New Jersey Middlesex County Court's family law division about 15 years ago, Weinberger witnessed firsthand how frightening the prospect of losing children and assets could be for those going through the process. "That clerkship changed the course of my life," she says. "I saw that with the right support and a strong voice advocating on their behalf, people could be liberated and spiritually renewed." Since then, Weinberger has devoted herself to shepherding people through the legal and psychological turmoil of divorce.
Weinberger admires the work Holmes' legal team accomplished to reach their desired settlement terms. Whether it's through litigation or negotiation, the goal, says Weinberger, is always to secure the best possible outcomes for clients on a case-by-case basis. "Every case has unique circumstances that need to be individually evaluated. This is why our entire staff is trained to treat each client with personalized care and attention."
Working to expeditiously and amicably resolve each client's emotional issues can also lead to some interesting results. Recently, for instance, Weinberger helped reconcile a potential client with his wife—rather than representing him in the divorce. "Right after I met with him, I called the opposing attorney, who had already filed documents with the court, and asked if his client would be open to discussing how to heal the relationship," explains Weinberger, who sensed the marriage could still be salvaged. "It took a lot of time and energy, but the couple has since reconciled."
For Weinberger Law Group, their "think different" approach has attracted a loyal -- and growing -- roster of clients. The firm's web-site (http://www.weinbergerlawgroup.com) is a clearinghouse of free information on virtually every aspect of divorce and family law matters. Weinberger says the website has provided tremendous comfort to people at a time when they feel most alone. The group recently expanded by opening a second office in Freehold located within the Monmouth County of New Jersey and intends to continue to expand and serve the needs of their clients throughout the state. Weinberger chalks up the meteoric success of the firm to the high caliber of its team.
"We only hire people who are both compassionate and exceptional in the field," Weinberger says. The attorneys at Weinberger Law Group are not generalists; they exclusively practice family law. "This is all we do," says Weinberger. "We know family law -- and we know families -- inside and out. We collaborate on ideas and strategies, which creates a cohesion that helps us provide a superior level of service for our clients."