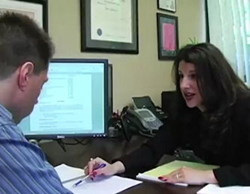 Couples should use the appropriate legal facilities to accomplish their goals, meaning no do-it-yourself or private agreements."
Parsippany, New Jersey (PRWEB) January 17, 2013
Drawing national attention, a Kansas judge recently ordered William Marotta, a sperm donor, to pay child support after the same-sex couple he donated sperm to went their separate ways. -- A move that has sperm donors in other states, including New Jersey, concerned about how much the law protects them from child support claims.
According to a report written for The Topeka Capital-Journal on Dec. 29th, issues in this case are related to the circumstances surrounding the sperm donation. Rather than go through a sperm bank or doctor's office, the donor and same-sex couple made contact through Craigslist and wrote up their own agreement stating that the donor would be relieved of any future financial liability. Because the state of Kansas does not recognize same-sex marriage, when the couple eventually split, the Kansas Department of Children and Families (DCF) sought out the sperm donor father to pay child support. The state agency claimed that the arrangement made by the donor and lesbian couple was not legal as they did not follow state laws which would normally exempt sperm donors from owing child support.
Could this happen in other states? According to New Jersey family law attorney Bari Weinberger, managing partner of Weinberger Law Group, rules governing sperm donation in New Jersey are in many ways similar to the laws cited in the Kansas case. And, suggests that other states may have similar legal issues.
"In Kansas, as in New Jersey, sperm donation laws state that when artificial insemination takes place under the supervision of a licensed physician with semen donated from a man who is not the woman's husband, the husband is treated as the child's natural father under the law. The husband (and wife) both must consent to the procedure in writing which is then validated by the administering physician," Weinberger explains, referring to New Jersey statute N.J.S.A. 9:17-44.
In other words, when sperm donation (and resulting artificial insemination) is not handled in methods described by the law of any state, a judge could decide that whatever agreement was put in place is null and void.
As for whether or not this case will set an ugly precedent for same-sex couples who rely on sperm and egg donations to have children, Weinberger thinks the message here may be a simple one, "Couples should use the appropriate legal facilities to accomplish their goals, meaning no do-it-yourself or private agreements."
In many states, for example, donating sperm through a sperm donation bank carries with it certain rights to privacy and anonymity. "Under New Jersey law, any paperwork generated, pertaining to an insemination, is only subject to release and inspection upon a Court order and only for compelling reasons clearly and convincingly shown", says Weinberger.
However, anonymous donors may be responsible for handicapped or ill children when the medical issue was known to the donor but not disclosed during donation. New Jersey law does maintain provisions for a donor and woman to enter into a contract to allow the donor to have rights to the child resulting from the insemination.
Weinberger believes the case in Kansas may have inadvertently exposed a gray area of sperm donor law in need of updating. "New Jersey [sperm donor and artificial insemination] statute discusses husband and wife specifically, and is outdated. New Jersey now recognizes civil unions and many states are now recognizing same sex marriages, so perhaps this issue is ripe for litigation or legislative updating," says the New Jersey-based attorney.
Some states, such as New Jersey, also recognize "psychological parents" and some courts have held that step-parents who are deemed to be the psychological parent of a child can be responsible to support that child. Perhaps this points to state law revisions and the need to provide a clearer definition of who can be made to pay child support -- and which individuals are exempt.