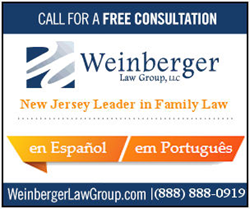 We want to ensure we are speaking the same language as our clients to help put them at ease during times of divorce.
Parsippany, New Jersey (PRWEB) June 28, 2013
During divorce or family law matters, legal decisions are made that can affect the lives of all involved for years to come. But how strong of a case can you build if a language barrier prevents you from freely communicating with your divorce attorney or your understanding of the legal information?
In New Jersey, it's estimated that upwards of 18 percent of residents are Hispanic or Latino and Portuguese with many claiming Spanish or Portuguese as their primary/first language. To better serve this growing population, Weinberger Law Group has added staff and translated website pages to help ensure that both Spanish and Portuguese speaking residents looking for legal assistance with their divorce and/or family law matters get the highest level of care and service.
"With a considerable number of people coming to our firm who are bi-lingual or non-English speakers, we want to ensure we are speaking the same language as our clients and it has been our experience that this helps put them at ease during this difficult time in their life," says Weinberger Law Group managing partner, Bari Weinberger.
Weinberger's first step in making non-English speakers feel more at ease has been to translate some of the firm's most popular website pages with information on divorce and family law into Spanish along with some pages translated into Portuguese. Easy to find "En Español" and "Em Português" buttons on the Weinberger Law Group home page takes website visitors to these professionally translated pages.
Weinberger Law Group is also pleased to announce the recent addition of two attorneys, Raquel Vallejo, Esq. and Laura Mendonca, Esq., to meet the needs of both the Spanish and Portuguese speaking clients in New Jersey. Beyond their ability to serve this diverse client base, both attorneys possess impeccable family law credentials.
Ms. Vallejo is fluent in Spanish and conversational in Portuguese. As a graduate of Seton Hall University School of Law in 2004, Ms. Vallejo was chosen to be a member of the Seton Hall Center for Social Justice where she provided services in the areas of matrimonial and family law to Essex, Morris and Union County residents. Prior to attending law school Ms. Vallejo, as a Henry Rutgers Scholar, received an undergraduate dual degree with Honors in Political Science and Spanish from Rutgers University in 1999. Since 2005, Ms. Vallejo has practiced family law in New Jersey, representing clients in matters pertaining to child custody, child support, alimony, division of assets, and more. Ms. Vallejo is currently available to meet with new clients.
Ms. Mendonca is fluent in her native Portuguese and proficient in Spanish. She earned her Juris Doctorate from Seton Hall University, where she was chosen to be a member of the Seton Hall Center for Social Justice Law Clinic. Prior to attending law school, Ms. Mendonca attended Kean University and graduated with Dean's List distinction. Ms. Mendonca has been a guest speaker at community domestic violence seminars in Morristown, New Jersey and was recognized as a "New Jersey Super Lawyers - Rising Star". Ms. Mendonca represents clients in all matters of family law, including divorce, child custody, mediation, domestic violence, and more. Ms. Mendonca is currently available to meet with new clients.
What else is available? Weinberger Law Group says it will continue to make new resources available on their website at http://www.WeinbergerLawGroup.com to all New Jersey residents, including more translated web pages to meet demand.
It is also important to note that New Jersey's court system provides interpreter services to non-English speakers during court appearances. Contact your local Family Court division to find out about the translation services that are available to you.