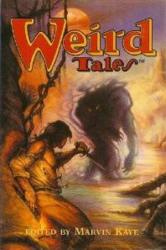 The only kind of story that probably won't fit would be neo-realism," says Kaye, "though even there I'm willing to be convinced otherwise.
New York, NY (PRWEB) October 20, 2011
Weird Tales, America's first and foremost magazine of gothic fantasy, science fiction and horror, has been purchased by Nth Dimension Media, Inc., co-founded by veteran writer and science fiction book anthologist Marvin Kaye and director/producer John Harlacher.
Kaye is the latest in a series of distinguished editors who have guided "The Unique Magazine" through nearly nine decades. Under the direction of current editor-in-chief Ann VanderMeer the publication earned a Hugo Award, the most prestigious honor in the sci-fi world.
Publisher Harlacher plans to have VanderMeer edit one final issue before turning over the reins to Kaye in early 2012. Kaye says he is "interested in continuing and expanding the splendid work" of VanderMeer. "When I take over the helm," he adds, "I hope Ann will continue her involvement as a consulting and contributing editor."
Kaye describes his own vision for Weird Tales as "Janus-faced," honoring the long history of the publication while continuing its legacy of discovering new and unusual fiction. Content will feature works of well-known, midlist and new writers, and a few reprints of classic stories.
Beginning in February 2012 each issue will have a theme, though Kaye states, "the usual assortment of stories and poetry will be included along with tales that fit the governing conceit."
The new Weird Tales will be open to nearly all sorts of genre fiction, including absurdist humor, fantasy, horror, mystery and surrealism. "The only kind of story that probably won't fit would be neo-realism," says Kaye, "though even there I'm willing to be convinced otherwise."
Kaye, the author of sixteen novels and editor of over 30 genre fiction anthologies, has a long personal history with Weird Tales. Fascinated by the "creepy-looking" magazine that his sister Dorothy brought into their Philadelphia home, he was an avid fan by the age of nine. He edited two anthologies celebrating the magazine's distinctive brand of fiction: "Weird Tales: the Magazine That Never Dies," published in 1988, and "The Best of Weird Tales: 1923," published in 1997. Kaye also edited H.P. Lovecraft's Magazine of Horror, which will remain an ongoing portion of Weird Tales.
No novice to the world of fantasy and horror, Harlacher is the co-director of "Nightmare," an interactive theatre experience widely recognized as New York's most horrifying haunted house. This year's motif, a creepy rendition of familiar fairy tales, has been described by Fangoria horror magazine as "entirely spooky and full of nasty, nasty fun…imaginative, and yes, hilarious and repulsive."
Weird Tales was launched in 1923 as a showcase for writers of speculative and alternative fiction – in other words, stories that were too bizarre to be published anywhere else. It launched the careers of such authors as H.P. Lovecraft, Ray Bradbury, and Robert E. Howard; even Tennessee Williams made his first sale to Weird Tales. The original magazine folded in 1954, but resurfaced over the years in the form of reprint anthologies, original magazines and paperback editions. Weird Tales has been printed regularly since 1988, when it was resurrected by editor-publishers John Gregory Betancourt, Darrell Schweitzer and George H. Scithers.
For more information, contact Terry Kaye at (818) 694-3016 or weirdtalespr@gmail.com.
###