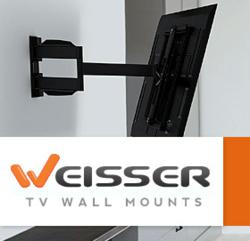 Our 2012 Summer Olympics promotion will be a good boost to the spirit of the Olympics. Weisser would like to support this event with our Summer Olympics Sale.
Burlingame, CA (PRWEB) August 03, 2012
Weisser, an established international manufacturer of state of the art TV Wall Mounting solutions announces their Summer Olympics Sale. The discounts are offered on the company website at http://www.weissertvmounts.com and include free shipping to all 48 states and a full 15% off on their entire line of TV Wall Mount systems.
Weisser USA offers modern, aesthetically pleasing and sturdy TV Wall Mounts for home, office and retail use.
Their wall mounts are one of the best looking and best quality in the market and now are offered for sale to US consumers on their website at competitive prices. Weisser TV Mount's recently launched ecommerce website allows consumers to purchase state of the art TV Mounting and offers multiple tips and hints at TV mount installation with videos and helpful blog articles.
The modern day consumer now has a choice of getting quality TV mount products from Weisser to fit their LED, LCD or Plasma flat screen displays and to compliment the aesthetics of these state of the art electronics displays. Weisser offers safe, durable and state of the art engineered wall mount solutions with multiple options to fit any home, office or retail location.
"We're happy to offer our high-quality and reasonably priced TV Wall Mounting products at heavy discounts this Olympic season," says Weissertvmounts.com Manager, Mingyu Fang. "Our Summer Olympics promotion will help both consumers and wholesalers with substantial savings off regular pricing."
The company's TV Wall Mounts are VESA compatible and designed to work with all major flat screen TV brands and displays, making them universal for home, office or retail use. All products have a manufacturer's warranty for 3 full years in US.
Weisser offers their best-selling Articulating TV Wall Mounts at 15% off as part of this Summer Olympics Sale.
This Olympics promotion is valid from July 27th to August 18th and offers great deals on their website such as 15% off on Full Motion TV Wall mounts, Tilt TV Mounts, and huge savings on wall mounted glass DVD shelf.
This promotion also offers customers Free shipping on all orders above $99. Free shipping is not applicable to customers in Hawaii and Alaska.
Weisser offers ultra slim low profile TV mounts starting from only $19.99. Their Tilt TV mounts, which are ideal for bedroom, office or den use are also 15% off as part of Summer Olympics sale.
On their website, customer can use coupons to get additional 10% off of all orders over $50.00 and additional 15% off of all orders over $150.00
Weisser TV mounts does not charge sales tax to its customers except for those in California (CA) which is required by CA state law. If customers are unable to locate or apply a discount code that applies to their purchase, or for any online ordering help, they can contact Weisser USA customer service by phone at (650) 239-9367 or Toll-free 855-213-0938. Their customer service staff is available Mon-Fri, 9 am – 5 pm PST time.
To learn more about WeissertvMounts.com or to buy a TV Wall mount during the Summer Olympics sale, customers can visit http://www.weissertvmounts.com
About Weisser TV Mounts:
Weisser TV Wall Mount solutions offer customers a balance of functionality, style, safety and elegance to match their modern Flat screen TV or displays. For today's modern lifestyle and décor, their easy to install and state of the art TV Wall mounts and DVD Shelf products offer the perfect match for the latest LED, LCD, Plasma and Flat Screen TV's.