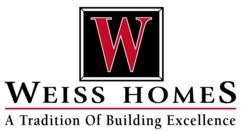 South Bend, IN (Vocus/PRWEB) April 18, 2011
Though the down economy may have decreased home sales for some companies, other companies have maintained their profitability and attracted home buyers by providing a high level of service and great value. Weiss Homes, located in South Bend, Indiana, is dedicated to designing houses meant to be both functionally and aesthetically pleasing; allowing buyers to purchase homes that look great and are easy to live in.
Weiss Homes recently won the "Favorite Homebuilder" South Bend Tribune Reader's Choice Award. Although having won this award multiple times before, its employees are excited to receive this praise from the community again.
Kym Baker, Vice President of Sales for Weiss Homes, recognizes the ability of Weiss Homes to listen to the feedback of homebuyers and implement suggested design changes, as part of what keeps the company successful. She said "that means our customers are happy which leads to our continued success. It is always our goal to have happy homeowners."
Dave Weiss, President of Weiss Homes, agrees. By designing all of the floor plans himself, he can ensure every detail match a buyers' needs. In an effort to meet the design demands of potential buyers, Weiss tours the country to pinpoint the latest trends in home design. Additionally, he utilizes feedback buyers provide in the form of surveys, to improve upon the options Weiss Homes offers.
Some recent trends include: larger closets, more storage, a drop zone by the back door where homeowners can charge cell phones, laptops, and other electronics, wider doorways and hallways, an increased number of windows and lighting fixtures, and laundry rooms located on the same floor as the master bedroom. All of these trends increase the livability of space, a core concern of the Weiss Homes' team.
Last year, Weiss Homes introduced its Innovation Series of homes, utilizing strong negotiations with suppliers to reduce the cost of each new build, making it comparable to the price of a used house without sacrificing quality. By offering this series of floor plans, Weiss Homes has enabled many families to move into their dream home, rather than settle for an outdated but affordable option. Equal attention to detail and the needs of buyers sets Weiss Homes apart and receiving the Reader's Choice Award time and time again.
For more information about Weiss Homes, visit http://www.weisshomes.com or call 574-234-73763.
###