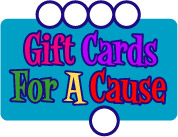 We are working with many under-resourced soccer players, and are always pursuing avenues to sponsor them. GCFC will provide another opportunity for people to do what they already like to do (i.e. go to the movies, eat out, etc.) while helping our players.
Charlotte, NC (PRWEB) May 17, 2013
Gift Cards for a Cause(GCFC), a National Grassroots charitable gift card company which allows consumers to purchase their favorite retail gift cards or e-cards that give back up to 40% of the gift card value to a charity of their choice, is happy to announce four new non-profit partnerships.
"We are pleased to be partnering with Gift Cards for a Cause, because every dollar raised is critical to our mission and supports the animals in our care and our programs," states Holly Alcala of Anderson Animal Shelter.
Gift Cards For A Cause's donation partners encompass a wide range of social service, health, educational, environmental, and animal rights organizations. Welcome to the following new nonprofit organizations, who have recently introduced Gift Cards for a Cause as a fundraising tool.

Anderson Animal Shelter, South Elgin, IL – Anderson Animal Shelter collaborates with public and private organizations and individuals to shelter, care for and promote the adoption of stray and unwanted companion animals in Northeastern IL.
Olde Providence Elementary School (OPES) Foundation, Charlotte, NC – The Foundation was established in 2011 to find ways to help meet the needs of the school and community, initially by supporting new playgrounds. When Charlotte Mecklenburg Schools agreed to replace two of the existing playgrounds at the School, the Foundation provided the funding for additional playground accessories, basketball court upgrades and renovations, and has recently purchased a much needed new sound system for the school. The Foundation supports the school, school programs, and school facilities by perpetually providing a funding structure for short and long term projects. The unpaid volunteers who make up the Foundation board work closely with staff, PTA and School Leadership Team.
Ultimate Goal Ministries, Nashville, TN – Ultimate Goal provides year-round outreach to youth through soccer. Ultimate Goal supplies a sports-based development opportunity that provides players meaningful mentoring relationships and programming tailored to transforming and empowering their lives. Ultimate Goal graduated the first competitive soccer team in 2007, with 11 of 15 players matriculating as full-time college students and over half receiving soccer scholarships as members of a collegiate varsity team.
Virginia Breast Cancer Foundation, Richmond, VA – Funds received from GCFC will be used to provide Virginians knowledge and a voice in the fight against breast cancer. VBCF's goals are to establish the end of breast cancer as a state and national priority, to advocate for the collective needs of people affected by breast cancer, and to educate Virginians on the facts about breast cancer.
These new donation partners are excited to participate in the fundraising and giveback opportunities offered to nonprofits through Gift Cards for a Cause.
According to John Stayskal, Executive Director of Ultimate Goal Ministries, "Gift Card for a Cause provides our players an opportunity to share in the responsibility of raising some of their own funding by taking leadership roles in participating in the Gift Cards For A Cause program. Thanks for providing yet another creative opportunity to help us fund our programs and players."
"The Virginia Breast Cancer Foundation is also excited to be a part of Gift Cards for a Cause as it's another easy way to support our services that is a win-win for both the consumer and VBCF," says Katy Sawyer, Executive Director of the Virginia Breast Cancer Foundation.
To give back to these non-profit organizations and other Gift Cards for a Cause partners, please visit the "Who We Support Page" at http://www.GiftCardsForACause.com. Stay connected on with Gift Cards for a Cause on Facebook, and follow us on Twitter @GiftCards4Cause.
###
ABOUT Gift Cards For A Cause
Headquartered in Cornelius, NC, the mission of Gift Cards for a Cause is to help raise money for worthy causes across the, globe by providing nonprofit organizations individuals, and corporations a way to support their favorite philanthropic organizations through everyday shopping. Every time an order is placed, donations go to the purchaser's favorite charitable organization or school. All organizations that receive donations have been certified by the IRS as legitimate 501(c)3 nonprofit organizations. Please take the time to visit us at http://www.GiftCardsForACause.com and stay connected with us on Facebook.